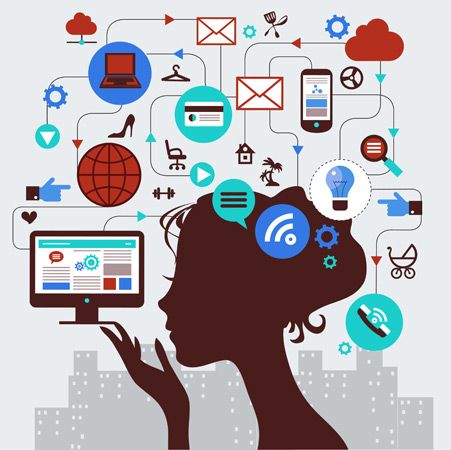 You're a stylist not a computer tech! You understand cut, color, and design, and you do not have to time to worry about digital marketing… or do you?
Many small businesses today market their services and products primarily via social networking. Why? Because it's an inexpensive or free marketing resource, and your potential customers are looking for a new salon online! They are not looking in the newspaper ads or in the phone book.
So, what do you need to do?
You need to use online marketing to bring in new clientele and keep your existing client base happy. Here's 10 digital tools you should try:
1. Get a Facebook Business Page
Although LinkedIn is technically the business social network, people often search for businesses on Facebook instead. Plus, Facebook generally ranks higher in search engine results than LinkedIn. Set up of a Facebook business page, optimize it, and link your salon's website to it. Then, encourage your customers to "Like" you. This will automatically show everyone on their news feed that they use your salon for their beauty needs. Boom! You've just been advertised to everyone who follows their Facebook page, (and some people have thousands of friends)!
2. Sign Up for Yelp
Another big online tool is the review website Yelp. Millions of consumers check the site or app everyday to read reviews. Sign up for a Yelp page to get a free business listing for your salon in your area, and then encourage your clients to leave a review of their experiences at your salon. The more positive reviews you receive, the better. Plus, your Yelp listing is bound to show up in search engine results when someone is looking for a salon in their city. Make sure to link your business website and your online booking page to your Yelp profile to drive potential customers to both.
3. Show off Your Style on Pinterest
Salons rely heavily on visuals to entice new customers. When choosing a salon, a potential client must be assured that the services they receive will be top-notch. There is nothing worse than leaving a salon with a bad haircut or an atrocious manicure. Pinterest is fun social networking website that allows its users to "Pin" pictures. All you do is place pictures on a virtual photo board for everyone to enjoy. If your followers like your pictures, they re-pin them onto their boards and, just like other social networking websites, the news spreads about your salon. Take photos of your stylists and manicurists in the salon. Pin photos of their beautiful work so potential clients can see the final results, come in, and say, "I want that, too!"
4. Get into Google
Google is the search engine giant and it sets the rules for how search engines operate. Sign up for Google+ and enjoy free social networking on the world's largest search engine. Google+ combines many benefits of the social networking websites I've already discussed, including review options, link options to your business website, and mapping options to direct your new clients to your salon's location. Google+ is another tool many people rely upon when selecting a new salon, but you shouldn't stop there…
5. Get a Google Ad
You know those ads you see on the top and right-hand side of your search results on Google? You can have one, too! Sign up for Google Adwords and then build an ad to entice new customers to click on it. It's your choice where the click takes them, either to your business's website, Facebook page, or other social networking site. You only pay when people click on the ads, so you can limit how much money you spend. Since most people search online when looking for a new salon, the investment is worth it!
6. Start an E-newsletter
This tool should not be overlooked. You receive them and your clients receive them: those emails from businesses you support, letting you know what's going on. Ask you clients for permission to add their email addresses to your mailing list. Ask them how often they'd like to hear from you, and then send them an e-newsletter to tell them what's going on in your salon. This is a fantastic way to keep your customers engaged. But don't stop there…
7. Send out Digital Coupons and Special Offers
As part of the email outreach program, be sure to include coupons, special offers, and notices of special events in your emails. Encourage your customers to share the specials with their friends to increase your business and attain new clientele. Emailing coupons and specials is simple for both you and your customers. You just draft the email and hit the "Send" button, and your customers just have to print out the coupon for use.
8. Get a Twitter Feed
Another way to boost your salon business is to sign up for a Twitter account. Everybody "tweets" these days, and it's a fun way to keep your customers and followers informed of what's going on with your business. Are you having a daily special? Tweet about it, so your customers can flock in for the savings. Want to extend some news about your salon expansion? Tweet it! Twitter is a quick way to spread the word about your business, and if you encourage your customers to follow you and re-tweet your tweets, you've just expanded your marketing outreach to their followers.
9. Become a Video Superstar
Another well-used digital marketing option is YouTube. You'd be surprised how many people spend their day watching YouTube videos. Sign up for an account and film your stylists and manicurists at work, explaining what they are doing. Many cosmetology students will watch your videos to help them master the skills they must learn for their license; others will watch just for fun. Regardless, you can link your website to your YouTube account and watch the people flock into your salon after they've seen the great styling staff you employ!
10. Allow for Online Booking
Alongside advertising your business digitally, you also need to give your customers the option to book their appointments and register for special events online. Today's customer wants to be able to book their appointments themselves, and they want to do it from their computer or smartphone, not by picking up the telephone. An online scheduling appointment service gives your customers the ability to do this. A good one, such as TimeCenter, also sends your customers reminders of their appointments via email or SMS (text messaging), allowing you to manage your email outreach, and along with numerous other tools that make running and digitally marketing your salon much easier.
Niclas Marie is the founder and CEO of TimeCenter, an awesome web app for online appointment scheduling. Read his helpful blog for organizational tips and business advice, or follow him on Twitter @niclas_marie