We scoured Pinterest for the best salon interior design ideas from around the world. Here's a collection of the most creative spaces and inspiring décor details you can try to make your hairdressing salon one-of-a-kind.
1. Don't be afraid of colour.
We love minimalism, but bright colours can make your salon stand out in a sea of super modern spaces. If bold wall hues are too much, think about bright light fixtures or art to give a monotone wall a splash of colour. Get inspired by these spaces!
(Photos: interiormagz.com)
2. Reuse old tools.
Old styling tools don't have to end up in the dump. With a bit of spray paint and ingenuity, give tools a second life as creative lighting fixtures and wall art. Clients will love the quirky, stylish touch.
(Photos: Sean Knibb & Anthoula Loukos on Pinterest)
3. Think about your outdoor space.
Using décor to draw people into the salon can work to your advantage and help increase walk-ins. This salon used a funny, retro chalkboard sidewalk sign to get attention. Get creative with your window displays, too.
(Photo: Anthoula Loukos on Pinterest)
4. Repurpose furniture if you're on a budget.
Who says you have to use only salon furniture in your space? One salon used an industrial, bright pink tool box to hold their hair products.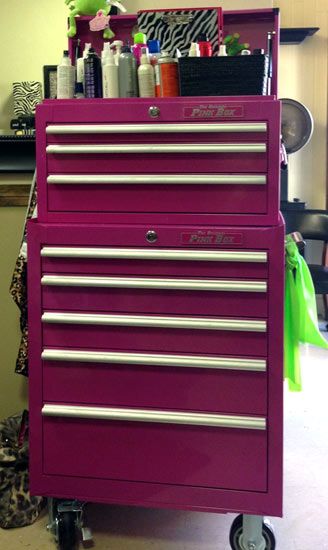 (Photo: Elizabeth Rogers on Pinterest)
5. Create original pieces.
If you want your salon to truly stand out, find or create one-of-a-kind pieces. Jamie Hill Salon in Swansea, U.K., used an old car to build their reception desk. These unforgettable touches will say something about your salon's creativity. The sky is the limit.
(Photo: Jamie Hill)
6. Creatively display your supplies.
Whether it's tools or magazines, don't assume everything you and your clients touch should be out of sight. Displaying it creatively makes the space functional as well as beautiful. SalonXL, in Ann Arbor, Michigan, hangs colour tubes on a clothesline for a handy way to quickly access open colour and be less wasteful.
(Photo: Elle.com)
7. Look for easy updates when refreshing your space.
A salon makeover doesn't have to involve a huge renovation. New lighting fixtures, wallpaper or art can refresh the space and allow you to remain on top of the trends without making a huge commitment. We love the delicate wallpaper on the ceiling at Ena Salon in Holborn, London.
(Photo: Pedro Inchenko and Johnny Othona, Ena Salon)
8. Easy artwork updates.
We don't all have the budget for original artwork. (Plus, if something is on the wall for years, you can get sick of it over time.) Wall decals or humorous posters are an inexpensively way to keep up with trends and quickly update your space as your mood changes.
(Photos: BestDecals & Smarty Pants Studio)
9. Make sure all spaces are cohesive.
Don't forget that washrooms and coffee bars—anywhere a client can see—should delight them as much as the salon floor. Make it work with your salon's decor to give clients the "wow" factor.
(Photos: Natalie Creates)
10. Try to create a private oasis.
If space doesn't permit you to give every station a sense of privacy, try creating it using plants, dividers, or curtains. While some people like the buzz of the salon, many want a relaxing, intimate experience with their stylist. Get inspired by this Japanese designer who created a hanging garden to separate salon stations.
(Photo: dezeen.com)
P.S. Find more inspiration in our salon interiors section or on our Pinterest page!