The Canadian Hairstylist of the Year Awards are the longest running and most prestigious awards in the Canadian beauty industry.
This year's Award's Gala takes place in Toronto Nov. 10. If you've ever wondered what goes on at the show, here are a few reasons why you may want to get your tickets while you still can.
1. To see who wins a Contessa. (D'uh.)
It's only like "the Oscars of Hairdressing." You won't want to miss it. But just in case you have to, we will have a live webcast that you can watch on our website that night.
2 & 3. It's an amazing show.
This year we have two spectacular hair presentations: expect a bold, black and white-inspired production from Rossa Jurenas for Schwarzkopf Professional, and "a battle of texture inspiring the couture of hair fashion" from Roch Lemay for Matrix. We'll leave the rest up to your imagination.
4. We've got a surprise presentation this year!
We have a special segment produced by Salon Magazine that's sure to delight at the gala. We can't tell you any more, but it's going to be good! And it may involve death-defying stunts. You'll be blown away.
5. Enjoy a delicious meal.
Have you seen the yummy menu yet? Check it out here!
6. You get to dress up!
We know you stylists love an excuse to get fancy. Anything goes fashion-wise at the gala! Here's a gallery of looks from a previous show to give you an idea.
7. Host Bill Rowley will give you the giggles.
We dare you to look into those eyes and try not to laugh.
8. To see gorgeous beauty images.
You'll get to look at the top work Canadian stylists had to offer this year.
9. Cause this happened.
You never know what's going to happen at the show.
10. People freaking out.
Nothing is better than watching someone react to winning. Nothing.
11. The cocktail party.
This is the perfect time to catch up with friends, network and enjoy a few drinks before the show starts.
12. Great music.
We have two awesome DJ's at this year's gala: Tom Wrecks and Techtwelve. Get ready to dance!
13. Help support the beauty industry and emerging talent.
The Contessa Awards help launch the beauty careers of young talent!
14. Meet your hairdressing heroes.
We often get some pretty big guests at our shows, including Kevin Murphy, Richard Ashforth, Oribe, and more… You never know who may show up!
15. We're at a new location!
We shook things up this year and moved the Awards Gala to the Westin Harbour Castle (2 Harbour Square in Toronto), which is in the heart of the city overlooking the water.
This also brings us to reason #16, which is…
16. You can stay in the Westin Harbour Castle.
If you're visiting Toronto for the gala, you can enjoy laying your weary head down on one of their Heavenly Beds (It's a real thing!). Plus there's delicious food, spa services, a gym…trust us, you'll like it there.
17. The centerpieces are edible.
We usually do a giveaway with our table centerpieces, but all we'll say is that this year's has a sweet surprise.
18. WE HAVE A PHOTO BOOTH!
You know you want to try the photo booth.
19. Meet the Salon Magazine staff.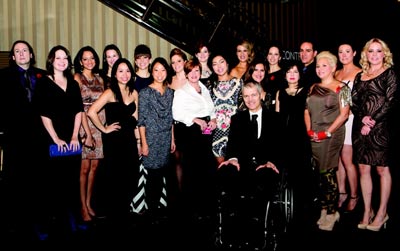 Get to know the people behind your favorite beauty publication!
20. Get the scoop!
We may or may not be making an announcement about a new, upcoming project we're working on…but we can't say anything more. We've already said too much…
21. Your picture could make it in the magazine.
We always cover the gala in our January/February issue. So you could see your face in our next print issue!
22. Help a great cause.
Salon Magazine makes a donation to Look Good Feel Better at the awards show, so you can feel good about attending the gala.
23. Cause all the cool people are doing it.
The hottest people in hair and beauty will be at the show (#humblebrag). We know you want to be a part of the Contessa family, so just succumb to the peer pressure already and join us!
24. The lovely sponsors.
Some of the top beauty brands in the world support the Contessa Awards! That's how you know it's a special event.
25. THE AFTER PARTY!
Save your ticket stubs and head to Brassaii (461 King Street West) for the biggest party of the year for beauty pros! You WILL see people dancing with their Contessa awards.