After almost losing her salon, Toronto-based hairstylist Lisa Dinh shared her touching story about the trials and tribulations of salon owning, proving her passion and dedication that helped her stay on top.
Dinh, who has been a hairstylist for 10 years, got her start in the beauty industry at the Aveda Institute of Toronto, where she later struggled to find a salon she felt like she belonged in. For more than five years, she worked as a freelance hairstylist out of her basement before building her reputation and clientele to work full-time.
"I was pre-booked for a year in advance, and by that time I was renting out of salons and had hired my first assistant. That's when we decided to branch off on our own," says Dinh. "I opened a salon because I never felt like I belonged anywhere. I wanted a place to feel safe and a place to call home. I couldn't find it, so I created it. I used my entire life savings to create a space where I could build a team in an environment where we could all reach our full potential."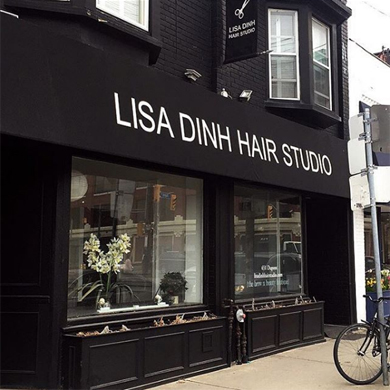 Lisa Dinh Hair Studio opened in January 2016, when Dinh began facing challenges during the transition from freelancing to being a salon owner. "Learning how to manage a team is definitely a challenge. It tests you in every way possible. You have to see the bigger picture and do what's best for the salon and for your team," she says. "Running a business has many obstacles and responsibilities. It feels like your to-do list never ends."
A couple of years ago, Dinh faced the ultimate challenge when her landlord wanted to sell the building, which would have given her 30 days to vacate, eventually leading her to purchase her property. "I put my entire life savings into opening a business that I built from the ground up. When you put your blood, sweat and tears into everything you have built, you're willing to risk it all not to lose it," she shared in a recent Instagram post.
When it comes to advice for aspiring salon owners, Dinh says to never give up on your dreams and always keep going. "You can achieve anything you want in this industry and in life," she says. "I never had a mentor and I never had anyone take me in. I had to make all the mistakes and find my own way."
Photos: Lisa Dinh/Instagram