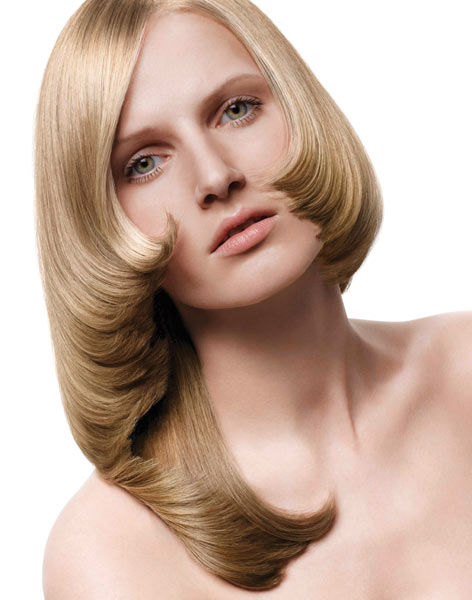 By this point, your clients are filling your appointment book with requests to go lighter. Are you ready to get them—and their strands—ready for summer? Here, three experts weigh in with their top tips on hair colour prep for the season.
#1. Step away from the blow-dryer.
To preserve the colour and health of the hair, encourage clients to work with the natural texture of their hair during the warm, humid months, says Goldwell educator Tammie Axworthy. Have your client flip her hair over and then use a weightless styling spray before tousling and letting dry. For added texture, skip a ponytail and put in a loose braid, a fishtail or waterfall. "Pulling back wet hair into a ponytail is one of the worst things you can do," says Axworthy. "Wet hair stretches 30 per cent more and it will cause breakage."
#2. Stock up on products with UVA and UVB protection.
All three agree that hair products that protect from the sun and environment are vitally important. This, you know; the key is getting your colour clients on board. "You have the opportunity now, at the beginning of the season, to educate clients on how to maintain hair through the summer months," says Trisha Rice, an educator and the director of business development for Malibu C. And don't forget to prep strands prior to colour. After going darker for fall or winter, use a product that will lift colour and remove minerals, so you can assess the tones and the canvas you're working with.
#3. Now's the time to try something new.
Want to keep your clients? Make sure you're making suggestions to switch up their looks. "I find that colourists get so busy with back-to-back clients, that it's hard to have that colour conversation," says Sue Pemberton, international Vero K-Pak colour artistic director for Joico. "We fear talking about colour because we don't have time to change it even if the client wants to. My recommendation is to make it intentional—'Would you like to change your hair colour?'—and have the conversation now, letting them know that you'll change it next time."
#4. Understand sun protection for hair
Ever wonder why hair products don't have an SPF rating? That's because every hair type is different, with different levels of porosity. SPF cannot be measured because of the different absorption levels. Super porous hair will release it faster than non-porous strands. Recommending the right products is the key to helping clients stay satisfied with their colour until their next appointment.
Colour protection faves to suggest to your clients:
{igallery id=3475|cid=277|pid=1|type=category|children=0|addlinks=0|tags=|limit=0}