As the founder of SpaRitual, Shel Pink's focus on the slow beauty movement is a mind, body and spirit approach to beauty that is woven into all aspects of the brand including product development. We asked her about her beauty inspiration, trend predictions and why nail artists should encourage their clients to try something new.
Top nail trend predictions?
Classic nails that are a little more toned down but still have an artistic look. For 2015 there's a nostalgic feel. It's rich and there's a warmth to the oranges, corals and blues, but very understated with a sophisticated, vintage look.
Finding your inspiration?
Art and art history are consistent touchstones and I'll spend a lot of time at museums. Music is also huge, and I'm constantly listening to different genres, it's endless. In SpaRitual's Spring 2015 collection, food, chefs and the art of cooking are the focus. You can find inspiration in the most unlikely places, which often surprises me.
Secret Beauty Weapons
My go-to products are SpaRitual's Handprint Hand Salve, which really moisturizes and our Moisture Balm, which is multi-purpose so it's also great for lips. Plus it has that the lemongrass scent is so uplifting. Cuti-cocktail Nail and Cuticle oil is something that I'll use every night to keep nails healthy.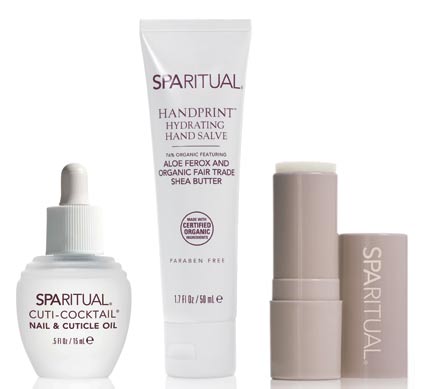 Personal Mantra?
I can talk about mantras for a long time; there are different types, and I've had one for about 15 years. As a brand, our mantra is to close your eyes, step inside and find your beautiful self. When life is so fast this is something that grounds you. This mantra is our theme and it's really what our team lives by when we are developing our products.
Building your clients' satisfaction?
Encourage your clients to gravitate toward the colours that they feel. For instance, they may wear shades of pink but be scared to wear coral even though it speaks to them in some way. Colour has a psychological effect on us and nail artists should be guiding their clients to have fun with colours they really want to try.
Mentors?
My father-in-law Jeff Pink founded Orly and really built his business over the past 40 years without any investors and I've really learned a lot from him.
Images courtesy of SpaRitual