From its cozy white walls incorporated with greenery to its signature spiral staircase, this new Toronto-based salon provides a homey feel to anyone who enters it.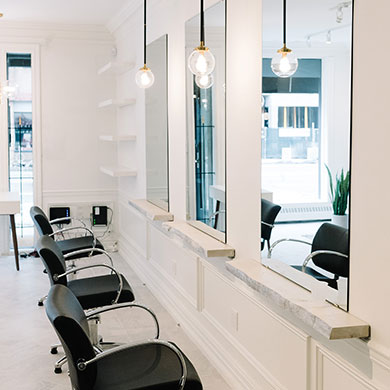 "My goal for this space was to make it feel peaceful and homey for both myself and my clients," said Bone + Co owner, Ryan Bone.
"I wanted it to feel really warm and welcoming. I've taken a lot of inspiration from yoga and other aspects of my life that I love and that keep me sane."
Home is Where the Heart is
When launching his business, Bone wanted to ensure that this salon would be a reflection of himself while giving clients an overall feeling of peacefulness and relaxation combined with small town vibes.
Aiming for a contemporary design, Bone opted for a white and light grey colour scheme and placed a primary focus on textures as opposed to colour; keeping things simple and clutter-free.
"You want to imagine what it's going to look like when there's no one there, but the hardest part is to make it look good when everyone's there," he said.
Keeping Things Simple
"I tried to keep it super simplistic, with details in the porcelain French-inspired floors and a focus on monochromatic and textures.
From the wooden, textured shelves to the accent gold, black and emerald green colours, Bone says he wanted to keep it very gender-neutral.
The Grass is Always Greener
"I placed a great importance on greenery in the salon as it is a space with natural light to give it more life. This ties in with nature, yoga, the general feeling of being a breath of fresh air and 'going back to your roots'," he said.
"We also have a fig tree that is still alive after months of being in the salon."
The Main Attraction

The statement spiral staircase, although not initially loved by Bone, grew to be loved after realizing what a tie-in it had with his homey vibe.
"As the construction progressed, I fell more in love with it and found a way to work around it by repainting it and recovering the stairs. It truly makes it feel like a home because stairs are associated with homes and houses; spiral or not."