After founding the non-profit organization, My New Hair, world-renowned hairstylist Trevor Sorbie considers his next chapter. We spoke with Sorbie and Canadian ambassador Lyette Belanger about this innovative educational program.
Tell us about My New Hair. Why did you decide to establish an organization dedicated to medical hair loss?
Trevor Sorbie: It all started 11 years ago when my sister-in-law was diagnosed with cancer. When I cut and styled a wig for her, she just about started crying with joy. I was at a stage in my career where I wanted to be doing something important. What I do now is a very important part of the healing process. We are able to do something the medical profession can't, and this has a big effect on people's self-esteem.
Lyette Belanger: For me, I had been through cancer two years ago. I lost my hair—I had long, thick, curly black hair and it was a big thing and this was a huge change in my life. This is why I automatically thought this is the right program for me. It's a matter of giving back.
Can you speak to the emotional/human connection and the importance of the relationship between a hairstylist and client in these types of situations?
TS: Firstly, hairdressers are good communicators. But you have to communicate in a very diplomatic way. I don't treat people going through chemotherapy as different; they want
to be treated as normal. You have to feel people. I feel what I do is psychological medicine—if you can look like and feel like the same person, I feel that it makes them stronger.
LB: Having experience as a hairdresser is key. You have to have a level of empathy to serve a client who is losing her hair. She needs to be taken care of, given good advice and be surrounded by love and to feel secure. You need to have the feelings to do this. There are some hairdressers that are scared of cancer. You really have to feel that you have to give extra.
Obviously this is a very sensitive situation, so what advice do you offer hairstylists even in having the first conversation with clients? TS It's about listening to their feelings and if they feel you care when you speak with them they'll come to see you. The other important thing is you have to have a private room. My advice is to have them come in before you open or after you close, so they feel comfortable and that you care enough to work a bit of overtime to help them. They may be scared initially, so you really have to listen to what they say.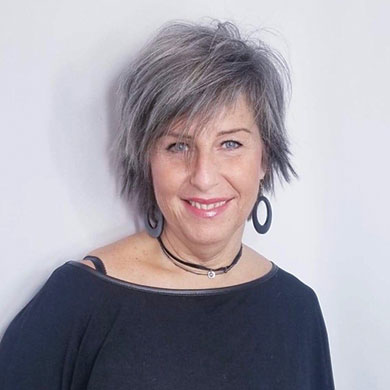 LB: For me, having the experience of cutting wigs, you want to have a relationship with your client who is going through this. It's a family thing. To me, the client who has lost her hair needs her hairdresser even more. I think it's a good opportunity for hairdressers to help.
When it comes to the technical aspects of wig cutting and styling, what are some of the technical aspects that hairstylists need to be aware of?
TS: Ask the client to take a photo of themselves with hair [before the cancer treatment]. Then I know what to do in terms of the hair colour, cut and style. LB You have to have precision in cutting. For me, the idea of this course and to work with Trevor is to improve the way in which wigs are viewed. We see celebrities that quite often wear wigs and we are crazy about them.
Tell us about your relationship in Pureology. Why were they an important partner to have, especially when launching My New Hair in Canada.
TS: L'Oréal Professionnel and Pureology are brave enough to support us, so we won't disappoint. The program has taught me so much about people.
For more information about My New Hair and to purchase tickets to the April 29 (Toronto) and April 30 (Montreal) events, visit:
https://www.lpeducation.ca/trevor-sorbie-toronto