Renowned international hairstylist Angelo Seminara and Canadian icon Anna Pacitto are two creative powerhouses guided by true artistry, while keeping their feet firmly planted on the earth with their vision of sustainable beauty. Here, they share why it's essential for us all to embrace big changes.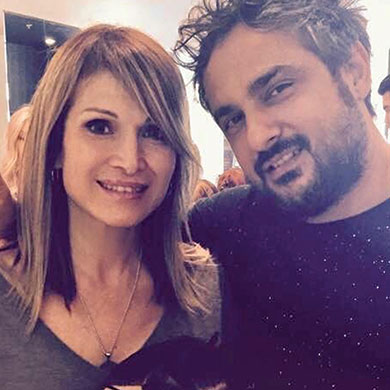 Anna: Working [as an Artistic Team Member] with Davines, a brand whose mission is to create a sustainable future, has literally transformed the way I live. Before, I was casually into recycling but now I'm absolutely aware of everything. Every aspect of my life has been impacted, so it's not just representing a beauty brand. It has affected my life as I live it.
Angelo: I come from a small town in Southern Italy where my grandmother, who had never purchased any culinary ingredients in her entire life, brought me into hairdressing. She was the first person I knew who was truly sustainable. Throughout my career, I would sometimes tell myself: 'I'm going to make my own product', to come back to the roots of what my grandmother taught me, the values she instilled in me.
Anna: Being part of a company that keeps us in check is good because our industry is generally perceived as being shallow, although that is changing now. It's a big step forward. We need to keep making changes. A few years ago, I started thinking of what we were going to leave behind. I sometimes feel that our little steps are not fast enough.
Angelo: My hero right now is [natural historian] Sir David Attenborough. He's saying really important things that we need to hear about climate change. It's a really urgent situation we need to take a stand for. When you hear it's 20 degrees in Italy, in the middle of winter, you know it's not normal. In terms of haircare, we know the products can't be 100 per cent organic right now, and there's still a lot of work that needs to be done.
Anna: Yes, that's so true. Ten years ago, hairdressers wouldn't speak this way. We would only look for effective products, but companies such as Davines make us think differently. Right now, we're not trying to tame the hair as much as we used to. We're letting hair behave more naturally, do what it wants to do. Hair that's not as 'done' is cool and modern. It's affecting fashion. I'm really happy to see the looks are evolving.
Angelo: I remember when I was working in the salon I would spend one hour on a haircut. But I was always fully booked because I was using the best techniques; pure dedication. It starts with being honest, by collaborating with your client. And haircuts and colour need to be more sustainable. The ambition of the hairdresser is to create something that makes their client stand out, to make them unique. And I think that balayage is just so boring, not to mention the damage that lighteners can do on the hair if it's not done right. Right now, the time is ripe again to revolutionize hair colour.
Anna: Like the Imprinter [for stenciling], one of your ideas, Angelo, which creates beautiful colour effects. It's unique and not that difficult to understand. It's not mainstream yet, but we can see that it's certainly taken off.
Angelo: Sometimes we're misunderstood, but that happens when you innovate.