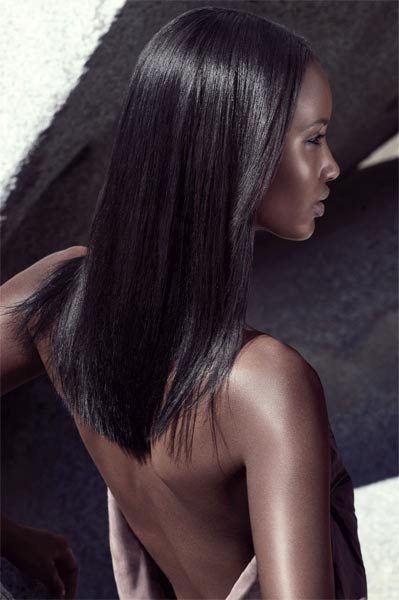 Aveda invited Toronto's most influential curly-haired tastemakers to show off sleek, straight hair in an exclusive photo shoot with Ray Civello, Aveda Canada's CEO and President, using its new Smooth Infusion Naturally Straight creme, which progressively loosens curls after every use.
"Naturally Straight is a truly innovative product—a must-have for anyone who straightens their hair," says Civello. Kristjan Hayden, Creative Director for Aveda Canada, who did hair and makeup for the shoots, was present to explain the science behind the new product.
What it does: This plant-based styling creme and smoothing treatment is used before blow-drying to create shiny, straight locks while naturally relaxing curls with as little as five uses. This lightweight product also defends against humidity and frizz using organic cassava root, tapioca starch and maize, while giving hold and heat-styling protection. It's perfect for naturally curly clients with medium-to-coarse or wavy-to-coily hair types who regularly blow out their hair.
How it works: Plant-derived fibers create a locking layer to hold hair straight and loosen curls as hair is blow-dried. With each use, straightening becomes faster and easier. Naturally Straight doesn't modify the natural curl pattern or texture of hair, and is safe for relaxed and colour-treated hair. The product doesn't build up over time, and once it has stopped being used, it will wash out after a few shampoos.
Best use: Apply a dime-sized amount (depending on hair length and thickness) of Smooth Infusion Naturally Straight styling creme to towel dried hair one section at a time, starting at the nape of the neck, and working the product into the ends and mid-lengths using downward strokes. Blow dry hair straight and follow up with a flat iron if needed. Those with very tight curls may want to apply Smooth Infusion Style Prep Smoother on first.
Availability: June 2014.