Professional hair and beauty brands are taking a stand to share how they are helping protect the planet for Earth Month. Learn how some of your favourite brands have implemented sustainable and eco-friendly products and practices.
Amika
Amika continues to introduce sustainable initiatives to save the planet without compromising the health and beauty of hair. The brand's signature ingredient (sea buckthorn), which is found in all of their products, is now organic, fair-trade and sustainably sourced from a certified-organic farm. Amika is also working to minimize virgin plastic production and shift to post-consumer recycled bottles, while working to cut out any secondary packaging.
The brand is also now officially Climate Neutral Certified, which means they are measuring their greenhouse gas emissions, purchasing eligible verified carbon credits to offset their footprint, and implementing plans to reduce emissions for next year and beyond. By reducing their emissions to zero where they can and offsetting them where they cannot, Amika is pledging to be Net Zero by 2030!
Aveda
Aveda is continuing their annual Earth Month campaign with a partnership with charity: water, a non-profit organization that helps provide clean water to people in need. Aveda is also relaunching its vegan Shampure Nurturing Shampoo Bar, which features zero plastic packaging and a carton made from 100 percent post-consumer recycled certified fibre. With every purchase of this limited-edition bar, $5 will go to funding clean water projects.
As part of the brand's mission to produce recyclable packaging, Aveda has announced
its partnership with Xela Pack to launch a paper-based, locally recyclable sachet. One of the first beauty companies to launch a commercial blockchain pilot, which traces its vanilla supply chain (included in more than 125 Aveda products), stylists can now see the sourcing journey themselves on Aveda's new site. The brand has also launched its Returnable Shipper Program, which helps stylists and clients reduce their environmental footprint by returning the shipping box, which is also reusable.
Authentic Beauty Concept
Kicking off the year with the release of its first Eau de Toilette for skin and hair, Authentic Beauty Concept continues to align their products with their ethical values. Case in point: The Eau de Toilette comes packed in a climate-neutral box, which supports Plastic Bank, a plastic offsetting charity that supports clean oceans. The brand's products are made with vegan ingredients that are free from silicone, sulphates, parabens, artificial colourants and mineral oils. Plus, 95 per cent of their ingredients are naturally-derived and come from origins such as sustainable guar. Authentic Beauty Concept's packaging is also recyclable, refillable and reusable. Stylists can even turn their containers into decorative plant pots!
Ardell Eco Lashes
Ardell has launched Eco Lashes, a new line of eco-friendly lash extensions. Inspired by sustainable fibres, Eco Lashes is the brand's first consciously crafted collection that combines their high-quality faux eyelashes with eco-friendly materials to create a natural style for the perfect everyday look. This collection is available in three styles and includes cruelty-free natural plant-based lash fibres. Plus, the packaging is made with 100 percent biodegradable paper carton and printed with soy ink!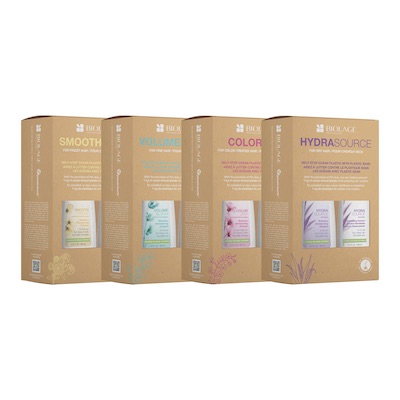 Biolage
Biolage introduces limited-edition Earth Kits to help fight ocean plastic. The new kits contain the brand's best selling shampoo and conditioner duos. And to celebrate Earth Month, Biolage partnered with Plastic Bank to help combat ocean plastic! With the purchase of one kit, one kilogram of ocean-bound plastic is prevented from polluting oceans. The Earth Kits are sustainably made with 100 percent recycled cardboard to minimise waste. The design is also optimised to decrease the use of inks, and the bottles are made with post-consumer recycled plastic. Biolage has also partnered with Chatters so that every time stylists and clients recycle empty haircare bottles, they receive 20 percent off of Biolage products.
Farouk Systems
Farouk Systems recently received the 2021 Sustainability Impact Award from Prime Waste Solutions, a Texas-based waste management company that recognizes businesses who are committed to making eco-friendly contributions that will positively impact the environment for years to come. To-date, Farouk has saved more than 3,000 trees, recycled 854 tons of oil and has diverted 1,372,000 tons of waste from landfills. They've also created vegan lines such as CHI Vibes and are committed to using sustainably sourced ingredients like aloe vera.
Great Lengths
Great Lengths has joined the B Corporation community as the first hair extension company to obtain B Corp status, which is a huge step in taking responsibility towards the planet by providing stylists and clients with B-Corp- certified products. Great Lengths is also committing to working towards reducing the beauty footprint of the entire production chain and continuing to instil a sense of trust with their clients. To coincide with their B Corp status, the brand has taken  a sustainable approach towards designing their new packaging. The Great Lengths pouch and envelope help reduce the impact on the environment by giving a second life to materials and products.
Joico
Joico aims to reduce the carbon footprint of their operations by 75 per cent in 2030 and has a goal to improve their energy efficiency by using 100 per cent renewable sources. For their products, such as Vero K-PAK Color, LumiShine and Blonde Life hair colour tubes, the packaging is made from 100 per cent recycled fibre, which means these paperboard cartons have been diverted from the waste stream, and are 100 per cent recyclable! The plastic bottles for Joico's shampoos and various sprays also use up to 25 per cent post-consumer recycled materials.

KMS
KMS is committed to creating high-performance and sustainable products in any way that they can! These efforts are highlighted through formulas with sustainably sourced ingredients, water reduction when creating products, and multi-use products that will help clients conserve water during each use. This brand is also focused on actively recycling and reducing the amount of materials used in their packaging. Case in point: The switch to lightweight aluminium cans will help the brand save 1.4 tons of aluminium each year!
Moroccanoil
Conscious packaging is top of mind for Moroccanoil. With a commitment to reduce the use of virgin plastic, the company's packaging will now be comprised of 50 percent post-consumer recycled materials, with a goal of saving more than 500 tons of virgin plastic over the next five years. As part of Moroccanoil's new hair colour launch, the brand has also introduced Blonde Voyage Powder and Clay Lighteners, which are each offered in pouches produced with 60 percent less packaging weight than traditional lightener tubs.
OPI Nature Strong
The OPI Nature Strong collection is for the clients who doesn't want to compromise between natural formulas and high performance. The nail polishes consist of plant-based ingredients that are derived from sugar cane, manioc, wheat, potatoes, and are free of animal-derived ingredients and by-products. Added bonus: Each bottle and cap is made from 20 percent post-consumer recycled materials!
Olivia Garden
With a pledge to reduce its carbon footprint by at least 35 percent in 2022, Olivia Garden is off to a strong start! The brand has launched its limited- edition OG Opal Brush Collection that's made with 100 percent recycled plastic. Each brush features a unique patented design that hugs the scalp, with a removable cushion that allows for easy cleaning. The cushions are colour- coded by their different bristle type; pink for medium to thick hair, purple for fine to medium hair, teal is a mini brush for all hair types and the blue has a special blend of boar and nylon bristles designed to eliminate frizz and flyaways.
Paul Mitchell
John Paul Mitchell Systems is committed to making their company's operations cleaner and greener to help preserve the planet. For example, they've decreased their use of virgin plastic and are reducing their carbon footprint with their tree planting program. The Paul Mitchell Clean Beauty collection features salon-quality formulas created with natural origin,clean, sustainably -sourced ingredients in recyclable and bio-based packaging made from sugar cane.
Pureology
Pureology is committed to sustainability and reducing their carbon footprint by ensuring their shampoo and conditioner bottles (excluding the cap) are created with 95 per cent post-consumer recycled materials. They've also reduced the amount of water needed per batch in their product manufacturing process, which has helped reduce utility energy consumption per bottle.
Wella
With the recent relaunch of their Elements line, which is designed to benefit the scalp and hair, Wella Professionals has prioritized sustainability with a cleaner formula (with up to 99 percent natural origin ingredients) and more eco-responsible packaging. Made with up to 100 percent post-consumer recycled plastic, the line also includes new recyclable pouches that are designed to reduce the use of plastic in salons. Along with an incredible 72 percent less plastic per mL and the inclusion of 25 per cent recycled plastic, shampoo bottles and mask jars from the line are also refillable at Wella's salon-exclusive recharge stations!
In addition, the tubes of Wella Professionals' colour including Color Touch, Koleston Perfect ME+ and Illumina Color will now be recyclable and made of 100 per cent recycled aluminum. This change will allow for the company to avoid using 700 tons of virgin aluminium per year.