We critique the stars red-carpet hairstyles from the 2012 MTV Video Music Awards. Do you agree or disagree with our choices? Let us know in the comments!
Best Curls: Zoe Saldana
Zoe's asymmetrical, wavy bob is on trend, pretty and youthful looking. She's perfection from head to toe.
Best Short Hair: Miley Cyrus
If people were worried that Miley's new haircut didn't look good on Twitter, they can rest easy knowing that her stylist worked wonders with the 'do and created a cool, rocker-chic pompadour perfect for the award show.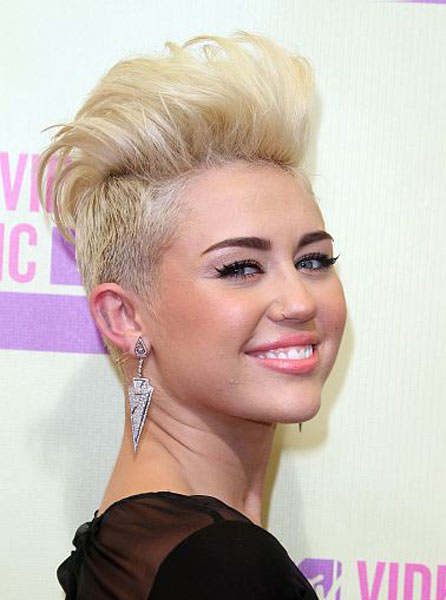 Second Best Short Hair: Emma Watson
It's hard to come up with a great red carpet style when you don't have a lot of hair to play with. Emma made a wise choice by going with a cute braided headband with piecey strands framing her face for a simple, chic look while her pixie cut grows out.
And now for the style losers…
Worst Choice: Taylor Swift
We do love Taylor's sleek, straight hair and fringe. However, we think this style just isn't fun enough for vibrant awards show. She looks so serious and much older than she really is. We love her sophisticated appearance– just for a different event.
Worst Overdone Trend: Demi Lovato, Ke$ha and Katy Perry
We love side swept curls, but we're getting a bit tired of seeing them on every red carpet. Demi's looked fine (but a bit too perfect), Ke$ha's were interesting, but Katy's looked a bit messy and flat (and frankly just boring). Pick a new trend next time ladies!
Weirdest New Haircut: Alicia Keys
Maybe it's just the way it's styled, but we're not loving Alicia's new 'do. It looked boxy and very soccer mom-ish. We want to see more from the sultry R&B crooner next time.