See our top picks for the coolest (or craziest) celebrity hairstyles and beauty looks from this year's punk-themed Costume Institute Gala red carpet.
Surprise colour change-ups
Both Anne Hathaway and Nicole Richie surprised everyone by showing up with completely different hair colours. We like Anne's new bold, blonde hue but are not sure if Nicole looks great with frosty grey strands. Here's hoping it doesn't become a trend!
Mohawk mania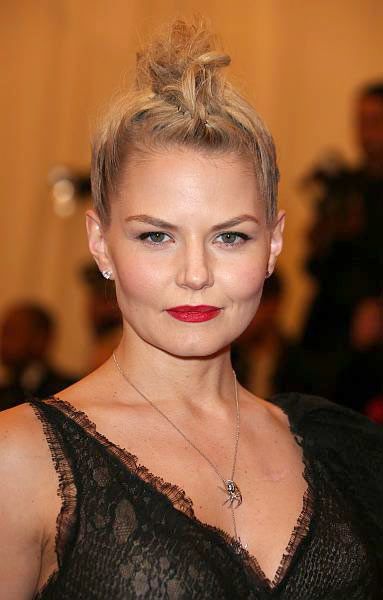 Jennifer Morrison showed up with an intense, braided faux-hawk that we think is a creative idea for someone with long hair.
Sarah Jessica Parker also rocked some kind of Mohawk-inspired headpiece, and we can't say anything bad about it because it's Sarah Jessica Parker and she can do and wear what she wants.
Braids are here to stay
Both Emmy Rossum and January Jones incorporated tight, cornrow-like braids into their messy updos. They also sported dark Cleopatra-inspired eye makeup, along with other stars like Ginnifer Goodwin and Jessica Pare. We smell a new trend coming.
Steep side parts
Gwen Stefani's deep side part, sleek fringe and messy buns reminded us of something out of her No Doubt days, but with a modern update.
We also loved Jaime King's creative use of a deep side part with a punk rock-inspired headband. This is going to be the accessory to watch this spring!
Best trend execution – Messy texture
Elle Fanning, Taylor Swift and the Olsen twins all rocked loose, bed-head waves and curls that looked natural (but probably took hours to style). It worked as a perfect contrast to their ornate outfits and bold makeup.
Best theme interpretation – Rooney Mara
Rooney Mara took goth glamour to a new level with her sleek, intricate updo. The mixture of loops and clean lines make it the perfect edgy but elegant look for the evening.
Biggest WTF moment – Miley Cyrus
Miley's been really hit or miss with her shorter hair. We're not sure we love this spikey style. It reminds us too much of over-gelled boy band hair from the 90s. She gets 10 points for bravery and 0 points for stylishness. Do better next time Miley!
Biggest surprise – J Lo
Jennifer Lopez forewent her usual long waves or perfect updo in favour of a voluminous pompador-inspired 'do that looked chic and edgy. As predicted though, she brought her young arm candy and backup dancer, Casper Smart, as her date. Some things never change!