There was no shortage of inspiration at Wella's 2018 North American TrendVision Awards (NATVA), which took place on July 16, 2018 at Caesars Palace in Las Vegas.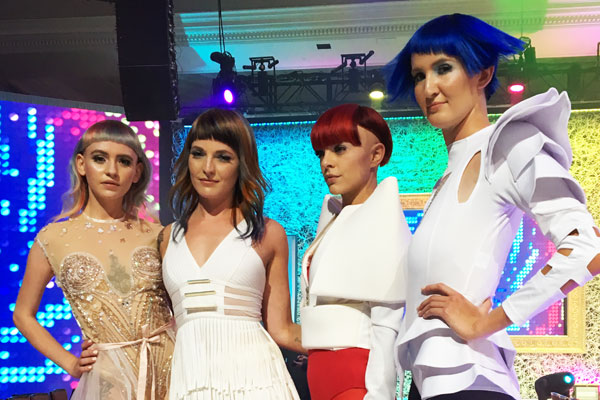 With a total of 3,400 entries from Canada, the U.S. and Puerto Rico, 37 hairstylists and colourists were selected to compete in a live competition, recreating their colourful creations that were submitted in the photo-based competition.
The esteemed panel of judges included Wella Professionals global top artist Sonya Dove, global educator Briana Cisneros, Hairbrained co-founder Gerard Scarpaci, and celebrity colourists Luis Pacheco of Medulla & Co. in Toronto and Lena Ott.
"I came to my first TrendVision Awards three years ago and when I saw the passion that students and masters put into their work, it ignited a new passion for my industry that I never felt before," says Pacheco, who was the only Canadian judge on the panel. "It's taking our craft to a whole other level. It's so much fun to see them push the limits of what hair and colour can do."
NATVA was hosted by Carole Protat, North America creative director for Coty Beauty. Sal Mauceri, senior vice president of professional hair color & care, global nail and appliances for Coty Beauty, also welcomed the event's thousands of attendees, emphasizing the importance of the professional's role in the industry, and offering a preview of Wella's upcoming launches.
Three North American teams presented The Art of Styling and The Art of Color, including the Canadian team Northern Lights, which included Wella top artists Dana Lyseng, Emily Murphy, Paul Nasrallah, Antonio Quintieri and Eryn Wall. Their "Noise" presentation included white noise, black noise and colour noise, which showcased the brand's Color Fresh Create line.
Among the inspiring presentations, the gold, silver and bronze awards were handed out in each category. Congratulations to all Canadian winners, including Daniel Grieco and Robert Rella of Salon Gaboa in Woodbridge, Ont., who will be travelling to Lisbon, Portugal in November for the 2018 International TrendVision Awards (ITVA)! And for Grieco, it's his second consecutive year of attending ITVA. "It's awesome; it's an amazing experience," he says. "But for me, it's always about being grateful. Even if there was [no prize], I would still be grateful."
Color Vision
Gold: Daniel Grieco, Salon Gaboa, Woodbridge, Ont.
Silver: Frank Dicintio, Salon Gaboa, Woodbridge, Ont.
Bronze: Veronica Tadros, The Strand, Waterloo, Ont.
Creative Vision
Gold: Robert Rella, Salon Gaboa, Woodbridge, Ont.
Silver: Cristina Prioletta, Stephan W Atelier, Montreal
Bronze: Adriana Dicintio, Salon Gaboa, Woodbridge, Ont.