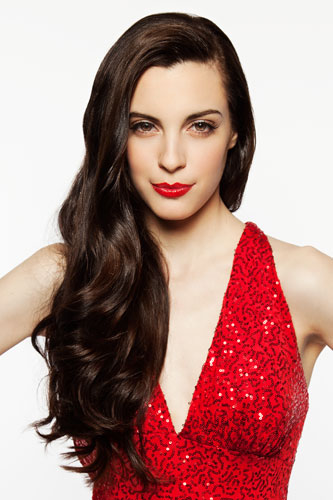 I can't believe the show is almost over! It definitely seems like it went by too quickly and I'm going to miss my weekly appointment viewing. While I'm not surprised that Isabelle lost last week, I am sad to see that Cait got the boot as well. I thought she was a very talented makeup artist.
Regardless, onward and upward! This week on Canada's Best Beauty Talent, we're down to the final two hairstylists and two makeup artists competing for the top spot in each category. Caylee vs. Matthew for hair and Jenna vs. Marcia for makeup. The final challenge was to create a red carpet 'do that would work with the dress and make the model stand out. The foursome quickly divided into pairs—East Coast (Matt and Marcia) vs. West Coast (Caylee and Jenna). Eric Del Monaco and Eddie Malter returned to mentor and judge.
Matt stepped up quickly in determining the look he wanted to go for with his model. He and Marcia seemed to collaborate well, as she suggested a makeup direction. Meanwhile, Jenna and Caylee disagreed, with Caylee ultimately choosing to go in the direction she had originally chosen for hair. I have to say I love Marcia's work. She is very talented and spends a lot of time blending to make everything look seamless and natural. According to her, when creating a red carpet look, the focus should be first on the dress, then the hair and finally the makeup. She executed that perfectly, creating effortless, beautiful makeup that, in reality, takes a lot of effort—and it complemented the dress and the hair without demanding all the attention. The final touch to the porcelain skin and natural eyes was a red lip that popped when paired with the red dress.
Matt created a loose wavy style for the hair, while Caylee created a more elaborate updo for her model. As for what the judges thought? The consensus was that Jenna should have created more drama with the eye makeup, while they loved Marcia. And that while Matt's style was beautiful, it didn't have enough oomph to remain styled for the night. Eric loved Caylee's style, while Coco thought the curls on top were a little much.
So… who was the winner? Cliffhanger! We have to tune in next week to find out! Grrr!
Here are my predictions: Caylee for hair and Marcia for makeup. As the judges said at one point, Caylee has consistently shown that she is pushing herself and creating beautiful, unexpected styles. Marcia just does stunning makup. Period. No matter what skintone, hair colour or eye colour, she creates something lovely. So what do you think? Who should win? Tell me below!