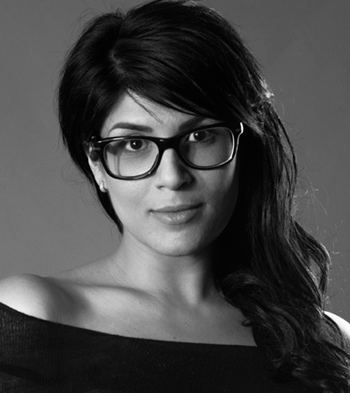 Contessa 2016 Avant Garde Hairstylist winner, Palma N'Sheluvzit, reveals her inspiration for her Contessa-winning collection and how her hands are her secret weapon.
Salon Magazine: When did you first know you wanted to be a hairstylist?
Palma N'Sheluvzit: I was about 7 years old. Keep in mind I grew up in my father's barbershop. Lucky me, my mom brought me a Barbie doll bust and I cut her hair into an asymmetric bob, as if I even knew what that was at the time. I knew my parents would have been so upset with me for cutting my doll's hair so I threw it into a garage bag and put it in the back of my closet. Of course my mom found it. She didn't say a word to me about it but I did hear her and my father saying "oh she's going to be a hairstylist!" So they knew before I did!
SM: Who are your styling influences?
PN: I love the editorial artist Kevin Murphy as he has such a way of expressing classy and elegant styles with modern sophistication.
SM: Where do you find your inspiration?
PN: I don't look for inspiration. I believe in the natural flow of creativity and in allowing my life experiences to bring me inspiration. My avant garde collection of 2016 was inspired thousands of miles up in the air as I was flying from California to Toronto. I had just spent the weekend sharing my love for hair and showcasing my hair art to an audience of driven hair artists. Their expressions of appreciation for my journey and experiences that had lead me to create it brought me to reflect on our passionate industry. I was reflecting on how much LOVE and INTEGRITY our industry has and how AUTHENTIC that makes us all, then it hit me! The idea: Build a collection that reflects those qualities of who we all are, a collection that is intricate but shows strength. Each piece of the collection was named after what I felt best represents our industry. Authenticity is represented by the black piece; I believe that we are all artists and we stay true to who we are. Integrity is represented by the brown piece; it symbolizes the unity of all hair artists and supporting one another. Love is represented by the white piece; this is the symbol that reflects all the love we have for our craft. This is what sums up all that brings me happiness and my gratitude for the love.
SM: What's your secret weapon?
PN: My hands. I spend hours hand braiding and sewing all the hair as well as micro-crimping the hair to create all textures with my collections. Our hands are our gift and I love to be true to my craft. There are no two hands the same. Everyone's work is art!
SM: What is the next milestone you'd like to achieve?
PN: I would love to continue to share my love of hair at as many hair events as possible. It's always inspiring to give back to our industry as I too become inspired.
SM: What's one piece of advice you'd give to someone entering the Contessas for the first time?
PN: Just do it! Really, I always say NIKE is a multi-million dollar company because their logo is "Just Do It" and not "Just Try." It's an opportunity to share your art and be proud of your craft. It's an opportunity to be given a platform to share and shine. Entering the Contessas is not just a competition, but a new beginning in your career. It's about showing your courage, your passion and your love for what you do!
SM: What was the process you used to create your Contessa-winning photos?
PN: First, I always wait for the inspiration to come. Once it has, I'm drawing and planning and researching my ideas. Then I begin the trail and error stage. That happens in the beginning of each collection. Sometimes you get it on the first try and sometimes it takes more than 10 attempts until you figure it out. Never giving up is all part of the creative progress. It wouldn't be creative if it wasn't challenging. And if you don't have passion, you would never be up for the challenge, so bring it on! Once all the fun stuff has been figured out, the collection comes to life. I put together my dream team of stylists, a makeup artist, a photographer and models to capture the essence of the collection through the lens of the camera.
SM: What are your top tips for working with a team, both in and out of the salon?
PN: Be open and be willing. As hair artists, we are all very strong and passionate characters. But in order to work with each other, we all need to learn to be open to new ideas and be willing to create them together. There is lots of room for everyone to shine. Allowing each other to work on your strengths and weaknesses together only makes your team better.
SM: Who's the first person you called when you won the Contessa?
PN: Well, being that I work with my father, of course he was the very first one to know, and then I called my mom. My parents have been amazing supporters in my life. I'm so ever grateful for all that they have and continue to do for me and for always supporting the little girl with the dreams who became a woman with a vision.
See Palma's Contessa 2017 Session Hairstylist finalist collection.