We spoke with Danielle Clark, who took home the Nail Artist of the Year award at the 30th annual Contessa Awards.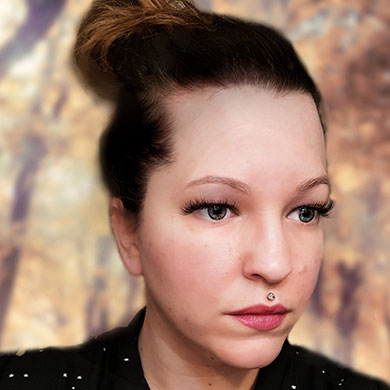 Tell me about your collection. What was the concept behind it? How did you decide on which colours and techniques to use?
We live in a very forested area and I wanted to create something I see every day, I had very natural feel. I sketch out the nails to begin with, I can take my time to decide what I would do. The colour are whatever felt right at the time. I'm a painter, so whenever I do art, I don't plan out colour, I just kind of go with the flow. I went with more muted colours for the most part, I tried to tie in some other colours, it was hard to pick out the right colour and I just went with it.
What does winning this award mean to you?
Winning has really boosted my confidence in my art and my profession. My clients are so excited which makes me happy, and it encourages me to put myself out there and learning new things.  I think it's a testament to the community to have artistic people to compete and put their art out there. For me, it has been a lot more appreciated in a smaller town because everyone knows each other. It doesn't matter where you are, it shows you that if you have a certain skill you can still showcase your abilities.
Who were your mentors?
Robin Schwartz is one of the reasons I became a nail technician she was really encouraging.
If you weren't a nail artist, what do you think you would be doing?
Before I did this, I had a hobby farm and I painted at home so I would probably be doing something like that.
Name/Nom: Danielle Clark
Category/Catégorie: Canadian Nail Artist | Artiste Beauté des Ongles
Salon: Trabbit Nail Creations, Grand Forks, B.C.
Photos: Danielle Clark