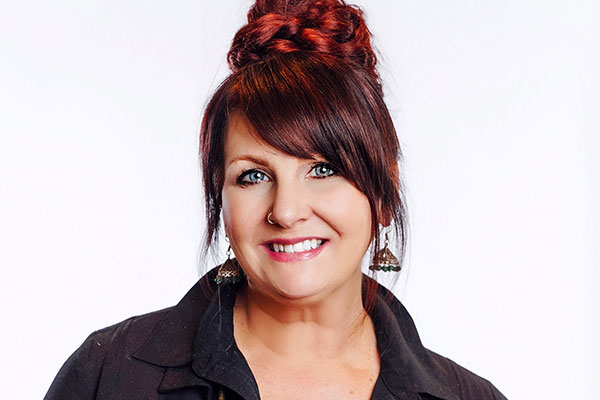 Can you talk a bit about the inspiration behind your collection? 
It's been a really important year to me. I lost my mom a year ago, my mother was an artist, a painter, so all of my colour palettes were based off of her paintings. I felt that my inspiration at times were too much copying because I loved someone else's work, so this year I really stepped away and got all my inspiration off the things that aren't hair, like paintings. This one mean's a lot to me so it's the icing on the cake. Win or lose, I'm really proud of the collection because of my inspiration but obviously winning makes everything a little bit sweeter.
You're truly transforming the classic "bob" look with different cuts and colours. Where did this idea spark from and did you know from the get-go what you wanted to achieve from it?

To create a collection, you have to have a strong plan in place, otherwise it's disjointed. For me, I love the idea of these bobs, bowls and mullets, so I went with that idea and they all obviously have these shapes around the—round, square and triangle.
Can you walk us through some of the techniques you used to create your collection?
I went with the layering of colours; I also chose three different techniques of placing colours. One was actually horizontal placement; one was vertical placement and one was a stencilling technique. I work for Matrix and I teach colour placement, that's my job for them. I think about that a lot before I start to place it.
Pretty in Pink
It's very subtle, in the pink one, if you look really closely, you can see this little almost digitization. Very subtle stenciling.
Red Bob
This bob was a labour of love. I had it cut completely with one length and as you can see there's kind of a step between the fringe and a step down and then the long piece. The original side was all one length, after the fringe, and one of my staff members said, 'Why don't you just make a step?' And that's how it happened. I went with a culmination of a mullet and a mushroom, I don't know what you'd want to call that, you could make up a name for it, maybe a Mushlet? This model can honestly wear a bag of popcorn on her head and it would look good, she's just a beauty.
Classic Bob
The colour placement's important on this one. The light with the yellow and the gold around her neck, kind of makes a connection. This is based off of a painting of my mom's called a 'An Autumn Walk,' and it's all based on Autumn colours. The aged-out hydrangeas that turn that rusty red, and gold, that's the painting.
You've been a finalist for this category several times, but this is your first win. What motivated you to continue entering?
Third time was the charm! Because it's the area that I live in, I felt that it was a definitely a goal and I hope that I'll inspire other people from Atlantic to enter. I'm also trying to bring awareness about it and obviously if you don't do it, you won't win.
What do you most enjoy about being part of the Contessa Awards?
I honestly love the camaraderie among the other stylists. It's amazing, all the friends that I've met over these last five to seven years, I've met more people every year. Every year I'm building a bigger circle of friends in the industry and I feel so inspired by everyone. 
Who do you consider to be the biggest mentor in your career, and why?
I'm inspired by so many people in the industry. Obviously, from Matrix it would be Chrystopher Benson, I would say Anna Pacitto, Michelle Pargee from Goldwell, these women are just killer and they're so inspiring with how they run their life, their work life and their marriages in general. Of course, Angelo Seminara as well, I love his work. I partner a lot with Julio Rodriguez in Matrix and Rodrigo Araneda, those are my two excellent friends that I can rely on to be like, 'No, it's not good enough,' I trust their opinion and that they'll be honest with me.
Education is continuing to evolve for hairstylists and colourists. What forms of education work best for you?
Early on, I went to anything that was out there. It didn't matter if it was on barbering, perming, colouring, whatever. I've been a hairdresser for 35 years. In 2004, I became an educator for Matrix, so Matrix supports us through a lot of extra education and aligning us with people we could learn and grow from. I sort of grew up with Matrix in the last 16 years.
What's next for you? What else are you hoping to accomplish?
I actually want to collaborate a bit this year. I might go shoot with a friend of mine from Montreal and I am working on a new program, a colour class for Matrix, so I'm building that right now. And always the ultimate goal for hair is to reach a NAHA eventually, and of course, I will shoot for a Contessa again.
Name/Nom: Heidi Kenney
Category/Catégorie: Atlantic Hairstylist | Styliste Provinces Atlantiques
Salon: Heidi Kenney Hair Studio, Yarmouth, N.S.
Makeup/Macquillage: Heidi Fleming
Photos: Denis Duquette