The acclaimed B2B event in Las Vegas is the is the only one for the beauty professionals in North America that encompasses all sectors of the industry under one roof and is exclusively dedicated to business development activities. For us at Salon Magazine, that meant it was time to discover new products and meet friends (old and new!) from the wonderful world of beauty.
We had the pleasure of sitting down with Alastair J Gourney, who manages PR for Unite, for a drink in the stunning lobby of the Four Seasons hotel, where he gave us a sneak peek of the products launching Q4. I can't wait to actually try Texturiza Spray to inject volume, texture and hold.
Henkel held a fabulous cocktail showcasing the three brands they have recently purchased: Alterna, Kenra and Sexy Hair. Stefan Mund, newly appointed president for North America, told me the acquisition is meant to complement the already strong presence of Schwarzkopf (also owned by Henkel) in North America. So, essentially, it's "business as usual for these companies who will continue to be managed by the teams they already have in place."
Goldwell whisked us editors for a divine lunch featuring the freshest fish at Milos, in the Cosmopolitan hotel – the only time I set foot in the blistering desert heat – to announce a new image for the brand and positioning ('We Think Stylist'). One that is smart, fresh, and much more real. And which, naturally, means absolutely no plastic skin or flawless hair achieved by zealous Photoshop over-processing.
Pivot Point announced the Leo Passage Endowment Fund to benefit competition, scholarships and lifelong learning. The fund, established by the Passage family, honours the founder of Pivot Point, an industry leader for more than 50 years, who passed away in 2011. The Fund will be endowed with a $1,000,000 donation from the Passage family, and implemented through the Beauty Changes Lives Foundation.
Upcoming Hair & Beauty Trends
This is what we saw that got us excited while running through kilometres of floor space in the Mandalay Bay maze.
-Nano Nails (nano-nails.com): the smartphone manicure that fuses fashion and technology for a modern, wearable stylus that – perk! – gives the user pretty nails. Yes, these faux nails can also be accented with polish.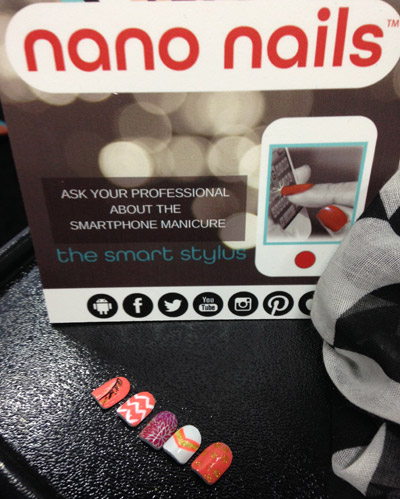 -Cailyn (cailyncosmetics.com) a new professional makeup line from California that features superbly elegant packaging, innovative formulas and a great assortment of shades and finishes.
-Beaded headbands from Pink Pewter (pinkpewter.com) designed by Mireya Villareal, a creative hairstylist who wanted to 'transform and revitalize old looks in just minutes, but also keep pace with modern couture.'
-Theorie, a new über high-end brand of haircare, stylers, hot tools and premium body care formulas. The brainchild of visionary entrepreneur Charles Kline, who has created 4 successful brands in the professional and retail beauty industry with gross sales over $20,000,000 annually.
-The love affair with nail art and exciting colour palettes is enduring. Think matte finishes, sparkles, glitter, satin, texture, and crème finishes, with gels continuing to increase in popularity.
-Extreme lashes: think neons, excessive feathering and ultra-plush length.
-Moustache grooming. Yes, Movember promises to be bolder than ever this year thanks to new colour-coordinated waxes.
A few stats from Cosmoprof North America 2014
-Exhibition area almost one quarter of a million square feet (223,222 SQF)
-911 exhibitors from 37 countries
-284 international exhibiting companies (34%)
-Over 26,000 visitors from 104 countries
-278 accredited members of the press (with four people from Salon Magazine!) in attendance representing 133 accredited titles.