Here's what you need to know about creating this popular, street-inspired colour trend for clients.
If your clients aren't already asking you about hair chalk, that's actually good news! Why? Because it means that, as a professional, you will be the one introducing them to this hot colour category instead of them testing out products that haven't been designed or formulated for hair. (Remember that client who came back asking you to correct that at-home ombré horror story? Exactly.)
Sell it as "Makeup for hair"
The important thing to remember about these new (very) temporary colours is that they are essentially makeup for hair—a hybrid between a styling product and colour. And, because they are a novelty, the point here is just to have fun with them! As a bonus, there's zero commitment and it's a product that's super-easy to use.
But hair chalk is also a smart tool to test new colour placements or try out trendy pastels your client might not be ready to commit to just yet. "Hairchalk is definitely a hair accessory, much like makeup. But it's also a smart way for salons to recruit new clients to permanent colour services," says Mathieu Bouchard, marketing group manager for L'Oréal Professionnel.
Hairchalk from L'Oréal Professionnel is formulated with pearlescent pigments derived from actual makeup that have been calibrated to achieve optimal visibility, even on dark hair. The colour is resistant to water and styling with hot tools and lasts up to two shampoos. Hairchalk fully respects the hair fibre, leaving hair feeling natural and with no residue. Hairchalk is a liquid that is applied with a makeup sponge onto hair and available in eight shades, from hot pink to black.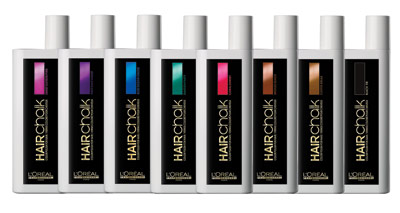 It's all about the pigments
Kevin Murphy, creator of the Color.Bug, one of the first professional colour chalk products on the market, says he first became interested in this type of product because he had been "experimenting with pigments since the '80's, obsessed with the powdered wigs of the French Revolution. The influence came from those times, but I wanted it to be intense and almost fluid."
However, these new pigments have a clinging factor that is superior to the coloured hair mascaras of the late '90s. In addition, they work as well on platinum as they do on dark tresses. Eric St-Jean, an educator for Kevin.Murphysays using a pomade creates a canvas before applying Color.Bug, so pigments have a better grip on the hair, and it gives the colour more sheen and vibrance. Remember that these pigments stay on the hair's surface and don't penetrate the cuticle, which means that you'll want a finishing product that will seal them a bit, like a quick spritz of hairspray.
Watch Kevin Murphy's Color.Bug tutorial.
Hair: Vivienne Mackinder, The Hamptons, N.Y., and HairDesignerTV; Colour: Stella Avero; Makeup: Mariya Gvozdov; Styling: Newheart Ohanian; Photos: Julia Pogodina