With the salon industry's growing need to stay on par with the ever-evolving online world, harnessing the power of digital is key when it comes to setting yourself apart.
Matthew Collins, a hairstylist based in Toronto and L.A., with a strong social media following, and John Cedilla, digital marketing specialist for Matrix Canada, share their views on how salons and hairstylists can hone their digital marketing skills.
Salon Magazine: When we say "digital marketing" people automatically assume the reference is to social media. Why is that?
John Cedilla: Because they're the biggest platforms, we automatically make that assumption. That said, it's only one piece of the puzzle. Digital marketing is a more general of a term that refers to using technology to market. Just like advertising does not encompass all of marketing, but is a marketing channel, social media is just one available channel of digital marketing.
SM: What has been the biggest digital impact in the salon industry in the last 10 to 20 years?
Matthew Collins: Instagram. It's a completely visual platform that's amazing for hair artists. You can get your work out there and it leads to getting new clients. On other social media platforms, such as Facebook, your content gets lost.
SM: What's your best strategy for growing an Instagram account?
MC: It's really about pretty pictures. A great quality photo is what's most important on Instagram, as is posting consistently. I spend about an hour each day planning my posts. Taking a good picture of each client takes about five minutes, and then roughly half an hour to prepare the captions and hashtags. If that sounds like a lot, I can guarantee that you're already spending at least one hour a day looking at other people's work.
SM: If you were to recommend a winning digital strategy for a salon or a hairstylist, what would you prioritize and why?
JC: It depends on a few factors. For salons with the resources, a website becomes their digital hub. It's also a way to empower your stylists and showcase everything amazing your salon does. Using the right tools to ensure good search engine optimization (SEO) implementation is vital because it can become a great e-commerce tool for selling your clients' products they know and love. Also, salons should always be collecting client data to send out newsletters and promotions. If you're a hairstylist, Instagram is great to showcase your work and do most of your own promotions. Your clients can 'direct-message' you allowing you to openly communicate with them. Just make sure you have a business account for tracking analytics and finding out more about your followers, and learning when you should post.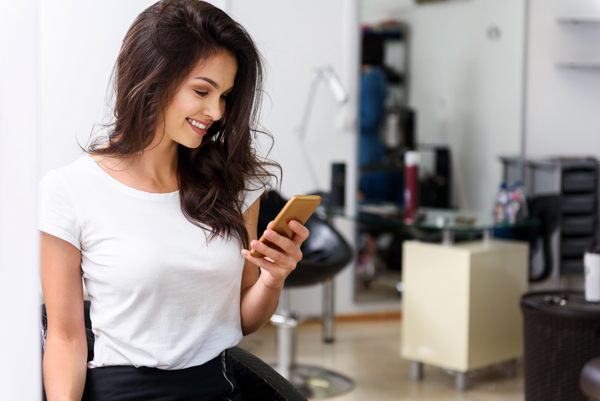 SM: Does digital marketing pose a threat to the traditional salon model?
MC: The previous model of opening a salon came down to traffic, where real estate and operations were very costly. To transition into this new economy, a salon needs to make sure they're relevant on Instagram. Posting about the culture of your salon with inspirational photos of hair is going to draw people in. As a salon, you need to be making a consistent effort to create a compelling presence on social media, or you're going to be bankrupt in the next five years.
SM: Tell us more about the new business model.
MC: The most successful hairstylists in L.A. right now are booth renters. And 95 per cent of our clients are coming directly from Instagram. The cool destination salons are now the ones potential clients discover online. You can literally be in an alley or a warehouse and have a booming business. Use the platforms to promote yourself big time. Digital marketing has given the independent stylists the tools to really make it on their own.
SM: How much does social media really bring new clients and retail sales into salons?
JC: You can track this on social media, but that's not its main strength. People are on social for the purpose of being social and not exactly because they
are looking to shop or buy a service. However, social is great for creating awareness and consideration for what you're selling. It also encourages your clients to create content that you can use on your own platforms and create conversations, video views, drive to web, signups for future leads, etc.
MC: Social media definitely leads to conversion [and foot traffic]. Fifty to 60 per cent of my income is coming from Instagram. My advice is, you need to get the old mentality out of the way. If you were great at marketing in a traditional setting, you will be able to transpose this into Instagram. The triggers are the same for the consumer, only the setting is different.
SM: What about email marketing, such as newsletters? Is that still a thing, and what rate of conversion do they bring?
JC: What's important here is collecting all the information you can about your clients so that you can give them information they're looking for and keep them in the loop on salon promotions. Also, it's important to remember that you have a strong and open relationship with the majority of your clients. They subscribe to your newsletter because they want to hear from you as their hair expert, which leads to higher opening and clicking [of the newsletter].
SM: What's next after Instagram?
MC: No one really knows what's the next big thing after Instagram. But right now, it's working really well for a lot of people in our industry!