While many women are known to colour their hair, there continues to be some hesitancy when it comes to men. Pointing your male clients to celebrities who've embraced the practice is an option (we see you, Adam Levine!), but it's often still a challenge to persuade your male clients to step outside the box. However, with spring in the air, it may be the perfect opportunity to begin a conversation.
"From my experience, it's a specific type of male that is hesitant to colour his hair," says Corey Bakon, a barber instructor at Tommy Guns Barbershop in Vancouver and national educator for John Paul Mitchell Systems. "Usually, educating the client on the proper products, techniques and tools for them is the answer. While it's true that there are male clients out there who only want to be natural, even in those circumstances, there are ways to keep that natural hair looking bright and healthy."
Goodbye, Grey!
Though covering grey hair or brightening up their colour to reflect the season may be top of mind for you, it may not be for your client. "It's important to remember that more often than not, they haven't even thought about that process," says Bakon. "Offering a semi- or demi-permanent colour service that doesn't take a lot of time or leave a line of demarcation can be the best introduction."
It may be easier to simply stick to your client's usual hair and grooming routine, but it's important to be on the lookout for opportunities and new ways to upgrade your services to increase revenue and add to the overall client experience. "If they have grey in their beard, you can offer a quick ash-tone semi or demi to give the beard some life," says Bakon. "When they say, 'Cut all the grey hairs off' as a joke, use it as an opportunity to talk about blending, coverage and/ or adding natural shine."
"It's always fun to bring a client beyond his expectations in the salon chair," says Eve Karat, owner of 53 Karat salon in Gatineau, Que., and an educator for Kenra Professional. "I've noticed, men like to be very secretive and quick if (and when) they opt for grey coverage. I find this creates a nice bond between the stylist and client."
While Karat has noticed that many men don't want to spend the time on a full colour service experience and would prefer to stay at the backbar and get it done as fast (and discreetly) as possible, she says it's important to not be shy when starting the conversation. "I always ask grey-haired clients about their hair and if they're comfortable with it and let them know there are options to blend it more," she says. "When the door is open, you're able to have more open conversations. I like to introduce treatments, too, so they feel like there's a selection of options available since most of them aren't aware."
---
PRO TIP: FOR MORE NATURAL- LOOKING RESULTS, BAKON RECOMMENDS HAND-PAINTING THE COLOUR FOR BEARDS, (RATHER THAN FULL COVERAGE OF THE FACE), WHICH IS AN APPROACH THAT CAN ALSO BE APPLIED ON THE HEAD.
---
Go Bold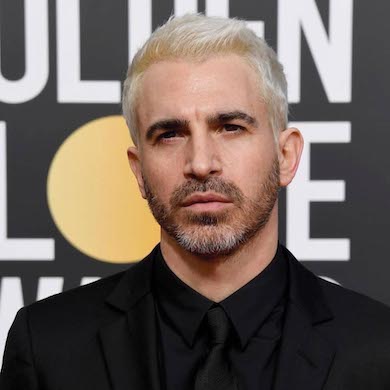 If your male clients are interested in channeling their inner Joe Jonas or Pete Davidson, Bakon recommends encouraging them to look on Instagram for inspiration. "Once they find something they can relate to and see on themselves, I would give them the full consultation on the process, cost and aftercare, and talk about products," he says. "It's important to also bring up the importance of a good take-home shampoo and conditioner to help maintain results between regular visits."
Although maintenance may seem obvious, most men who aren't used to colouring their hair will likely be unaware of what's involved to help prolong their hue. "Education is so important, especially when it comes to male clients who may otherwise turn to drugstore products [for maintenance]," says Karat. "It's important to be vocal and to help inform them so they understand the maintenance process. I always try to educate without selling, but I find that they always end up buying the products anyway, because they want the best for their hair and they trust that I want the best for them, too."
---
"IF YOU WANT TO ENCOURAGE YOUR MALE CLIENTS TO COLOUR THEIR HAIR, HAVING AN HONEST AND INFORMATIVE CONVERSATION, WITHOUT BRINGING A LOT OF ATTENTION TO THE MATTER, CAN PRODUCE GREAT RESULTS." — COREY BAKON, BARBER INSTRUCTOR, TOMMY GUNS BARBERSHOP, VANCOUVER
---
Live While You're Young!
You may think colouring hair would appeal more to older men looking to cover their grey, but according to Karat, it's her younger male clientele that are much more willing to talk about colour services and are open to experimenting with colour. "The younger generations are more comfortable with embracing this type of change," she says. "They're making TikToks and taking videos around the salon; they are super open-minded. Times are changing and we need to adapt, too."
Bakon, who loves to work with fashion shades, says he enjoys playing with techniques to enhance his clients' colour. Although he offers a lot of grey blending and beard toning services to his older clients, he also enjoys the creativity that often comes with catering to a younger clientele. "There's nothing quite like exceeding your client's expectations," he says. "Colouring hair isn't just about how you look, but also how you feel, [which the younger generations seem to care more about,] so it's nice to open the clients' eyes to new possibilities for his personal look and expression. Colour can go a long way."
Colour with Confidence
These expert-approved products will help you easily create the look your client has been dreaming of.
Kenra Studio Stylist Express
A permanent colour line that nourishes and conditions hair while conveniently lifting and covering grey hair in just 10 minutes.
Paul Mitchell SynchroLift Lightener
This dust-free, blue-tinted powder formula gently lifts up to nine levels.
Kenra Color Creatives
This semi-permanent range of muted and vibrant shades can last up to 50 washes.
Paul Mitchell The Demi
An intermixable demi- permanent line that conditions hair while providing vibrant colour for up to six weeks.