In the salon, the disparity between men's and women's hair colour services is glaring. While many women are opting for fashion hues, most of your male clients want colour that's as natural and discreet as possible. Here's what you need to know to achieve that perfect balance.
According to Eve Champagne, a certified Redken colourist and co-owner of Rayko salon in Montreal, an in-depth consultation is a must when you have a booking with a male client. "The consultation gives you an opportunity to assess how open your client is to change and allows you to make sensible suggestions, particularly if you want to address the issue of greying hair," says Champagne, adding that it may be up to you to bring up the topic because your client often won't be comfortable doing so.
Camouflaging Greys
With the dizzying army of hot, mature men proudly parading their greys on Instagram, the current trend is to gently camouflage them. "Gone are the days of completely colouring or all-over bleaching hair," says Champagne.
Choose a colour that has an ash tone in a demi-permanent formula to gently conceal grey hair. "The idea here is that you don't want to work with an ammonia-based product, which will end up lightening the hair as the colour fades over time and reveal red pigments—a surefire sign of coloured hair," advises Champagne. She recommends Color Camo from Redken, which offers excellent coverage and works in 10 minutes or less. "Basically, you're just adding pepper strands to salt and pepper hair. The end result is very natural."
Going Paler
Ash tones are also your best option because they blend better with greys and are well suited to neutralizing any warm undertones. But if your aim is to go for a pale yet subtle change, your results will look more natural if you choose lightening creams over high-lift formulas. "One-step products, such as Blonde Idol from Redken, offer great results because they are pigmented and very gentle on the hair," says Champagne.
Another option for men is balayage, which offers incredibly natural, sun-kissed effects. According to Champagne, "You just paint the lightening cream directly on hair and use your artistry to blend in these lighter sections with the rest. It's also a fun and modern way to go for blonder sections because all-over bleaches look very dated now."
Avoiding "The Donald"
The one thing that all professional colourists advise against is applying permanent formulas all over when colouring men's hair, "unless you want to go for [U.S. Republican candidate] Donald Trump's unflattering helmet look," says Champagne.
Using a coloured gloss will also help make hair look healthier and add a nice sheen to dried-out strands, another sign of aging hair. "Acid-based hair colour adds a lot of shine while preserving hair's natural pH," says Champagne.
Finally, always recommend a colour-protection routine at home between bookings so that colour stays fresh longer.
The Color Bar
From the salon to home care, products makes all the difference in your client's colour.
Fast Fix: A mere five minutes with Goldwell's Men ReShade is all your need for guys looking to cover their grey, plus it's ammonia-free.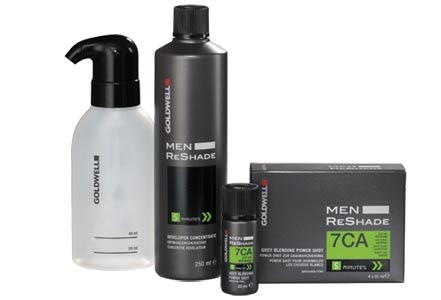 Strengthening Formulation: Redken for Men's Color Camo features a protein-enriched formula that strengthens the hair and can be used as a customized colour service for blending grey hair.
Home Run Hit: When it comes to colour retention, Schwarzkopf Professional's BC Color Freeze Silver Shampoo uses lamination technology which protects colour vibrancy and enhance shine between salon visits.
Credits:
Hair/Coiffure: Tony Wilson
Styling/Stylisme: Jane Mow
Photos: Ian Smith