Sponsored by:
When the incomparable Vivienne MacKinder speaks, hairstylists around the world listen. Along with her incredible artistry, MacKinder has distilled her 30 years of expertise as a hairstylist into a comprehensive educational series on HairDesignerTV.com, an online learning and networking site for salons and hairstylists. It's no wonder that Joico invited MacKinder back for Destination Education 2016 and she's sharing her top reasons why you need to be there too!
What are the benefits of attending education seminars while you're on vacation?
Vivienne MacKinder: Combining education with a great, fun experience is very smart. It's tough to focus under pressure, when you have time to relax, refresh and unwind you're more open and focused on what you're learning. The rest time is as important as the learning time because you can reflect on your strengths, your goals and where you are at in your career.
Why is being a part of Destination Education important to you?
VK: For me, this is a chance to watch different artists in action, I was fortunate to have the opportunity to be a student too. I learn as well, and I have to do something that's new and different, that sets the bar higher. It's very gratifying to help people and challenge them, and you need to have your hands in the process to do that.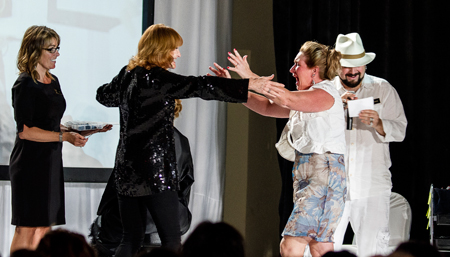 How would you describe the Destination Education experience?
VK: Everyone whom I speak to finds it more challenging to balance life and get a good return on an investment. Destination Education is escape that's so well planned and thought out, that the guests and the presenters have an extraordinary experience., one that reminds us our work should be fun.