Five celebrity stylists pick their favourite looks for the season, plus offer tips on recreating them in the salon.
Not only do they style stars' hair, they're also some of the industry's most celebrated hairstylists and colourists. So, who better to have their fingers on the pulse of what is happening for fall? Check out their predictions for the hottest cuts and colours, plus superstar products you can use to recreate them on your clients.
The Celeb: Emma Stone; Stylist Superstar: Tracey Cunningham, owner of Meche, Beverly Hills, Calif. and Redken artist
Tracey Cunningham is responsible for taking actress Emma Stone from the blonde she wore for her role in the latest Spiderman flick back to the red that her fans know and love. "There's nothing scarier than clients changing their hair that dramatically," she says. "You have to really make sure that they want it." Because it's certainly not quick and easy to go back. The entire process took about four hours, with Cunningham filling with golds and coppers four to five times, before applying the final shade.
Tip: If hair is damaged, prep it first with a conditioning treatment. If hair is blonde and you're trying to put colour back in, use a low volume product—5 to 10 volume—so that the colour will stain.
The Celeb: Kerry Washington; Stylist Superstar: Louis Hechter, owner of Orbite, Montreal, L'Oréal Professionnel artist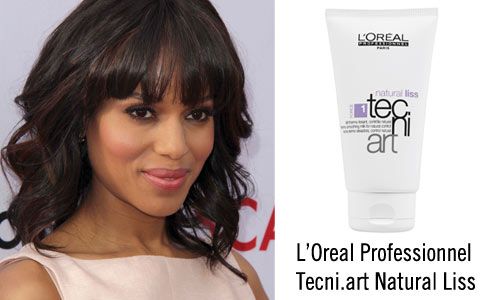 Louis Hechter is a big fan of the lob (long bob) with a fringe for autumn. "It's a modern style that makes a statement," he says. "It's a strong haircut, but it's quite simple and very versatile. You're starting to see it a lot more on the street." Depending on the client, he recommends choosing the length to balance the face shape, with a longer length for rounder faces.
Tip: Cut the fringe quite blunt, but with a little highness that will give wideness to the look. A fringe that's not too short, not too narrow and not past the temples gives a beautiful effect, according to Hechter.
The Celeb: Miley Cyrus; Stylist Superstar: Tyler Colton, celebrity stylist and Schwarzkopf Professional artist
Miley Cyrus' modern, bleach blonde cut is a daring, grown-up change for the singer/actress. It's celebrity stylist Tyler Colton's favourite look for fall, one he says represents a "return to '80s grunge gone chic." The new styles for the season "will have blunt cuts to long layers," he says. "Styling these short crop styles
is always exciting, since they can be worn in so many ways."
Tip: He suggests creating a wearable style by using OSiS+ Blow & Go Thick and a small, round brush to blow-dry sections upward, creating over-exaggerated height. Finish by applying a matte or wet look product liberally (depending on the style) to
sculpt into a controlled, smoother pomp.
The Celeb: Michelle Williams; Stylist Superstar: Kevin Murphy, celebrity and editorial stylist and founder of Kevin.Murphy
The intersection where '60s meets grunge is where Kevin Murphy sees style for fall. "It's a bit of glam frumpiness," he says. "I'm seeing a lot of downplayed hair with glam dresses. It looks fresh and not too done." With shorter cuts, he's aiming for a smaller silhouette that's more in keeping with the current clothing styles, rather than big voluminous looks. "It's a crooked blunt line with less layering, more internal cutting and thicker and chunkier," he says.
Tip: To rock these shorter styles, the client "can't be too thin, she needs a bit of plumpness in the face." A square face shape is ideal, although the cut can be modified by adding a long, heavy bang or lengthening the style to between the chin and shoulder.
The Celeb: Kate Walsh; Stylist Superstar: George Papanikolas, celebrity colourist and Joico artist
What is it about fall that makes clients want to go red? George Papanikolas is feeling inspired by the shade, especially Kate Walsh's rich auburn. "I love the tone-on-tone dimension," he says. "On redheads, you don't want the highlights to be too light—yellow streaks on red hair just isn't pretty."
Tip: "For redheads, I do balayage highlights on the client's natural part," he says. "Start fine at the root and then get thicker and heavier toward the ends. Lighten to a golden copper, then gloss with Joico's Chrome RC8 (Orange Crush) for the copper gold tone-on-tone."