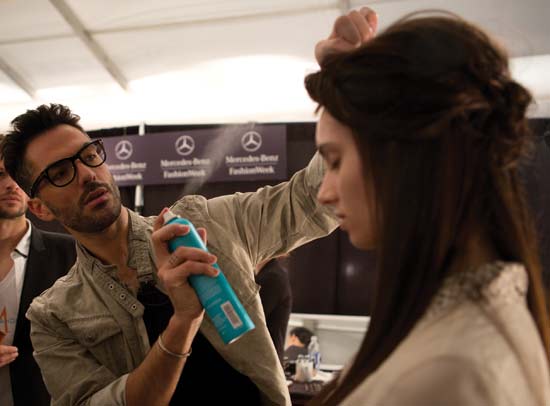 Moroccanoil artistic director Antonio Corral Calero has a bird's eye view of Fashion Week. "This year, we have seen braids all over the red carpet and during Fashion Week
worldwide," he says. For this season, he predicts the trend will continue, but with a twist. "One in particular that I am a fan of is the messy fishtail braid," he says. Here's his top picks from the runways.
1. Headband braids at Katya Leonovich.
"We created a modern braid-like effect that was done without braiding the hair. Instead, we used a criss-cross technique, taking long strands from the back, then overlapping and wrapping them to encircle the head. The messy halos were inspired by the feminine turbans of the '20s."
2. Halo braids at Alice+Olivia.
"Inspired by fantasy street style and a cool sense of personal individuality, the romantic looks for this show featured braided effects that included sweeps of long, loose chignons accented by forward-falling strands."
3. Braided chignon at Delpozo.
"The looks were modern and light in feeling and flow. They featured a simple airy chignon that floated from the nape of the neck and upward in loosely braided swirls, with graceful architectural sweeps of hair flowing over the ear and winging alongside the chignon in back."