While environmental awareness has long since been at Aveda's core, the international teams at Master Jam 2014 were also focused on renewal. Needless to say, for the 1,500 hairdressers from more than 22 nations, it was an event that married innovation with Aveda's organic inspiration. Here's a rundown of the beauty and creativity that was brought to life on stage by these international artistic teams.
1) All about the Details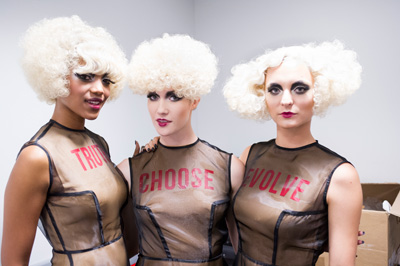 From texture to well-define cuts to detailed headpieces fashioned from recycled paper, Ray Civello lead the Canadian Team in creating a presentation centered on the theme Sustainable Human. As Civello explained, this was an opportunity for creative reinvention and the Canadian team took a collaborative approach combining techniques with artistry. Kristjan Hayden, Aveda Canada's creative director also added the positive focus on the environment reflected in the use of locally sourced materials.
2) Clean Lines and Defined Silhouettes
Putting an emphasis on movement, Ricardo Dinis, Aveda's global artistic director, hair cutting, advises hairstylists to think about the silhouettes they are creating. Sometimes taking sections and exaggerating a specific cutting technique offers a contrasting look that's pleasing to the eye and your client.
3) Style Transformations
Dubbing his inspiration as a reptilian glam girl, Alan Ruiz created a stunning transformation of an elegant chameleon with a few simple style ideas. Taking a step-by-step approach, Ruiz explained the importance of building a base, when and how to use products and how a ponytail can offer an intricate style but still be easily executed in the salon.
4) Texture, texture, texture
As Tippi Shorter, Aveda's global artistic director for textured hair explains, it's upt to hairstylists to play with the feel and touch of the hair. One way to begin doing this is by thinking about textured hair as a fabric, which allows you to see it in a whole new way. Using techniques involving winding hair around barrettes, and crocheting wool into the crown as hair extensions, Shorter created a uniquely woven collection from tight curls to intricate waves.
5) Alluring Pigment Colour
Taking inspiration from the simplicity of Icelandic beauty and incorporating brilliant pure pigment hues creates a stunning effect. Using white as a pure canvas, showcased the beauty of the pure pigment shades. While you may not be sprinkling or dusting colour as Jo MacKay, Aveda's European technical hair specialist demonstrated on stage, she says you can (and should) embrace your inner child by working your hands into the hair to distribute the colour product.
See more photos from the show below!
{igallery id=210|cid=1217|pid=1|type=category|children=0|addlinks=0|tags=|limit=0}