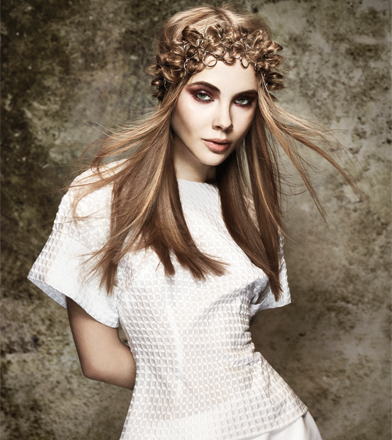 Between office parties and holiday events, your clients are looking to glam up their look. Whether it's to refresh their colour, recreate a classic chignon with a twist or add extra volume to their locks, all of their heads will turn to you for your professional expertise. Here's how you can customize your client's hairstyle and boost your earnings by creating glamorous holiday looks.
Hit the Glam Spot
According to Erin Montgomery, community manager for The Ten Spot in Toronto, the demand for glam during the busy holiday season is one of the reasons the company partnered with the Hudson's Bay Company to offer quick hairstyles and blowouts in a convenient location, in the heart of Toronto's fashion and financial district. "The styles take 20 minutes, so if you have a lunch meeting, a date or an office party, you can refresh your look, even if you're short on time," she explains. Because each look takes less than half an hour, you're able to accommodate more clients, which boosts your revenue without clients breaking their budget.
Style Matters: Creating an upstyling menu during the holiday season is a terrific opportunity for hairstylists to offer clients a choice when they are asking about upcoming events. This way, clients can choose their look and know they'll be well coiffed without having to spend a lot of time (or money) in the salon.
Up and Away
For Schwarzkopf Professional Essential Looks Artist, Michelle Oliver, upstyling—classic hair with a twist—is where it's at for the holiday season. "It's about creating an urban feel so that hair is more of an accessory," explains Oliver. She says that a chignon with a knot either at the side, low at the back or high on top and a French twist with exposed bobby pins, make these styles current.
Style Matters: For clients who want to achieve their holiday hairstyles at home, Oliver suggests booking an extra 15 minutes for their appointment so hairstylists can walk them through a styling step-by-step. Many clients will rebook a follow-up appointment to really nail down their look, which is a quick and low-cost way to increase your income. Happy client, happy hairstylist.
Pump Up the Volume
As a Contessa Hair Extensions Artist finalist, Jennifer Reid explains that not many people have naturally thick hair that hold curls well. That means for clients who are longing for bombshell locks or undone waves and texture, hair extensions are the way to make the look happen. "With my clients, I'll talk about what they're doing for the holidays and find out whether they're going on vacation. That will help me determine the type of extension I'll use."
Style Matters: Reid is also quick to bring her clients back to reality when they show her pictures of celebrity hairstyles, especially those who have hair extensions. "For upstyling especially, having more hair to work with gives more shape, separation and texture," she explains, adding that this is key in creating the currently popular undone looks.