With the holidays fast approaching, your clients will soon be popping into the salon for all of their hair care and beauty buys. This season, your favourite brands have kicked boring gift set packaging to the curb. We've rounded up the coolest holiday packaging this season for hair and nails and checked out what's inside to make sure there's something for everyone on your client's shopping list.
American Crew has paired go-to styling and shaving products to create different sets. Check out our favourite, which includes the Power Cleanser Style Remover, Daily Conditioner, Moisturizing Shave Cream with the Fiber molding cream. The brand has found the perfect balance between need and want for your clients' gift lists.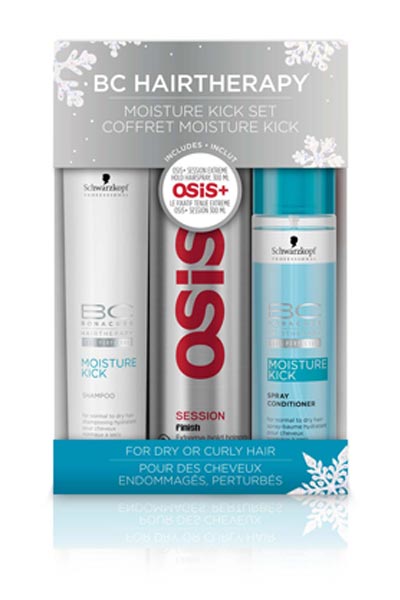 Schwarzkopf Professional has individualized your clients needs with everything from line-specific gift sets from BC Hairtherapy including Color Freeze, Moisture Kick, Repair Rescue and Time Restore (all featuring a shampoo, conditioner paired with OSiS+ Session Extreme Hold Hairspray), to OSiS+ Party Survival Kits which include Volume (OSiS+ Dust It Mattifying Powder and OSiS+ Session Extreme Hold Hairspray in both 100 mL and 300mL aerosols) and Texture (OSiS+Grip Extreme Hold Mousse, OSiS+ Thrill Fibre Gum and OSiS+ Session Extreme Hold Hairspray) editions.
Revlon Professional has brought holiday cheer to the Orofluido line. Inside these stunningly designed sparkling sets, clients can find themselves being treated to all the hair-goodness the Orofluido line has to offer. The exclusive editions include the original line beauty set featuring the Original Elixir and Eau de Parfum and the Orofluido Asia edition with the Zen Control Elixir and Asia Blush.
OPI has taken its latest holiday collection, Starlight, and created the perfect duo and holiday 4-pack. Featuring fun shades like Press * for Silver, Is This Star Taken, Guys & Galaxies and I Drive a Supernova, your clients will be loving these lacquers beyond the holiday season.
China Glaze has the perfect holiday trio this season. Ring in the New Year with your bonus "Cheers" ring, too!
Paul Mitchell has made it easy for clients looking for that last minute item with packaging so perfect it doesn't even need gift-wrapping. Black and white stripes and chevron hide the seven different set variations in reusable heavy plastic bags containing signature products like the Spring Loaded Frizz-Fighting Shampoo, Super Skinny Serum, The Detangler and Ultimate Repair Triple Rescue. Check them out!
{igallery id=7169|cid=1742|pid=1|type=category|children=0|addlinks=0|tags=|limit=0}