3 tips for perfecting the art of colouring hair extensions.
According to Jenny Romano, technical advisor for Schwarzkopf Professional in Toronto, working with hair extensions not only contributes to her business, but also allows her to establish a strong base of repeat clients. "It gives clients who generally would not be able to have a certain shade the opportunity to get a look they want without damaging their own hair," shares Romano. Here are three essential tips to keep in mind the next time a client requests a little or a lot of colour in their coif.
1.
Discover the Difference
Working with hair extensions means that you don't have body heat, which contributes to the colour processing. In order to resolve this issue, Dana Lyseng, a platform artist with Wella Professionals, says that working the colour into the hair extension with your hands will help. "It gives you more clarity and room for creativity," she explains. Unlike working with your client's natural hair, Romano says that hair extensions tend to be dry. To combat this, she suggests applying colour when the hair is slightly damp or saturated with a leave-in conditioner first.
2.
Know Your Type
"Before you begin the process of formulating a colour, colourists should be aware of the type of hair that they are coloring," explains Romano. In her experience, colouring works best with Remy hair extensions as opposed to full or mixed fibres. Romano also recommends "buying hair from a reputable company that stands by their product," which is one way to ensure you'll get the best quailty extensions.
3.
Testing, Testing, Testing
"When working with extensions, execution is key," explains Lyseng. "I'll paint the colour onto a flat, stainless steel trolley, then tape my extensions onto it and paint the colour again on top." Both Romano and Lyseng agree that test swatches are a must. In fact, when she's doing a pattern, Lyseng says she'll often do multiple test swatches to ensure she's got the right colour formulation. For Romano, using extensions offers her a way of creating complicated looks by using multiple shades.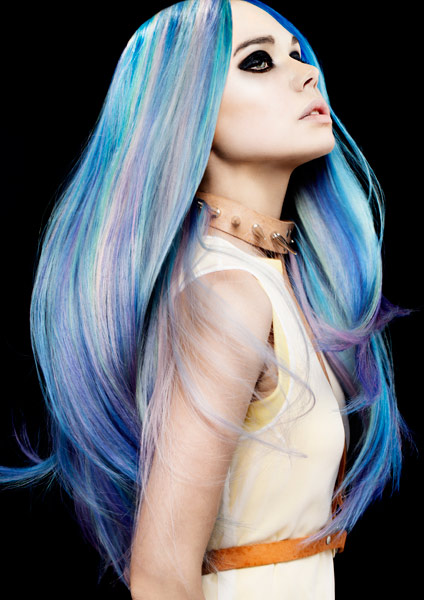 Animateme collection: Hair By: Charlene Fernandez; Salon: Rokk Ebony; Photos: Elizabeth Kinnaird; Styling: Carlos Mangubat; Makeup: Ollie Savage