Seems like Kim Kardashian has gone even blonder. The ombre was cute but we think this is too much. Just go back to brunette.
Can we talk about Melissa McCarthy's big gorgeous hair on the cover of Elle? We love it! Beats super skinny models/actresses any day.
Check out these INSANE nails done at the World Cup of Nail Art, which takes place in Munich, Germany every year.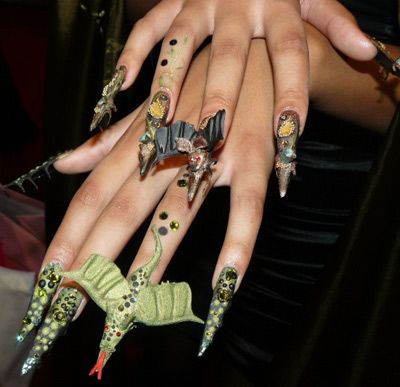 What celebs do you think can pull off any hairstyle? The Telegraph shares it's list of the top hair chameleons. At the top of the list? Victoria Beckham, Keira Knightley and Carey Mulligan.
Jake Gyllenhaal was spotted with hair long enough to be put in a man bun! Thoughts?!Oh, yeah newly separated Bruce Jenner was also spotted with a ponytail. What is it with dudes and their long hair these days? Do you love it or hate it?
Photos courtesy of Kim Kardashian's Instagram, Elle, beauty-fairs.de, and Keystone Press.