Award-winning leaders in men's hairstyling from around the world predict what's hot for guys in 2014.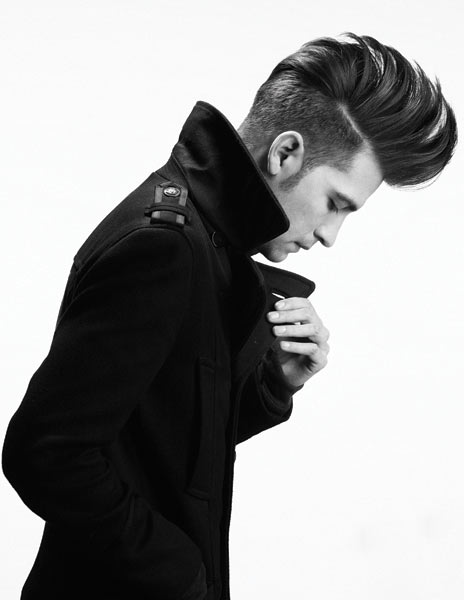 With the bar being raised for men's styling on a global scale, your male clients are expecting far more from your services. To give you a heads-up, four award-winning men's stylists—Canadian Contessa winner Matthew Conrad, British Hairdressing Awards winner Kevin Luchmun, Australian Hair Expo winner Jules Tognini and North American Hairstyling Awards winner Matthew Morris—share their key predictions in men's cut, colour and style.
Men's Hair Trend 1: The Contoured Haircut

Without a doubt, the contour haircut takes the spotlight for 2014. "The contour haircut is a more refined version of the longer, disconnected swept-back styles we have been seeing over the past few years," says Conrad of Victory Barber & Brand in Victoria, B.C. "It has a strongly carved part and a side swept top, perfectly sculpted with pomade," he adds. Influences include Dolce & Gabbana Spring/Summer 2014.
Men's Hair Trend 2: The

Wedge
A continuation of last year's trend, Morris from Denver's Matthew Morris Salon and Skincare predicts that a triangular shape in today's long tapered cuts will be in demand. "It's got a very '80s feel, with heavy corners. The difference with the wedge we see now is that it's more groomed but looks torn apart. Decades ago, it was more perfect and textured," he says. To achieve this, blowdry the hair, closing the cuticle and giving it gloss; then mess it up for a softer shape.
Men's Hair Trend 3: The Male Blowout

Beachy, relaxed locks dominate this year's trend and suit many face shapes. "Create an effortless, natural finish by blowing hair off the face," says Luchmun from Toni&Guy in Covent Garden, London. He adds that healthy, glossy hair important for achieving this look. Morris agrees: "It's very Robert Pattinson: full hair and a long, tapered haircut," he says.
Men's Hair Trend 4:
Urban Fades
Masculinity meets urban edge with this new take on fades. Luchmun, who was also part of the Toni&Guy Session Team during the Fall/Winter 2014 London Collections, says that freestyle shaved designs will make a statement for the urban male. "Create dramatic impact by snaking designs around the side of the head,"he says.
Men's Hair Trend 5: Balayage
Morris foresees that what was considered a women's colour trend will trickle down to the men's side. "The men's balayage placement is different from women in that colour is applied very far away from the scalp, on the longest part of the hair," he says. The hue is also toned down and not as extreme and bright. Adapt this colour trend for a more conservative look by simply taking the levels a notch or two lighter than his natural base. Tognini from Togninis in Fortitude Valley, Australia, says, "Regrowth and bleached-out ends are keeping men looking like real men. Keep it simple and don't go too warm with your colours; stick to cooler and cleaner tones."
Photo: Hair: Matthew Morris, Matthew Morris Salon and Skincare, Colorado, Photo: Jordan Holloway.