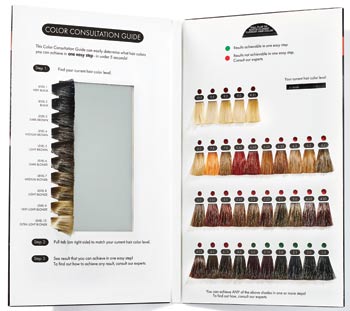 As a colourist with more than two decades of salon experience, Danny Lapointe, artistic director for Aspasie, a company that produces colour swatch books for manufacturers, explains why it's an important tool for colourists and clients and how the colour swatch book can help your colour service menu.
Discover Colours You Don't Use Often
For Loretta Tom, a master colourist based in British Columbia and a previous Canadian Colourist Contessa finalist, the swatch book helps refersh and review the different hues. "Regardless if you have been doing hair for a year or 30 years and know the colours in the book inside out, sometimes there are shades that aren't commonly used that we forget about," she explains. Outside the salon, Tom says the swatch book is a well-used reference tool. "When I'm doing creative work, I may have an idea in my head but it's always nice to put all the swatch colours side by side to see how the colours blend and complement each other," she explains.
Communicate Clearly with your Clients
When it comes to figuring out exactly what your clients want in their hair colour, Danny Lapointe from Aspasie, a Quebec-based company, says the swatch book can be a high-impact communication tool. In fact, not only does the book alllow colourists to understand their clients' colour choices but also will help you explain your direction to your clients. Tom believes that "stylists should always use a swatch book to confirm your client's desire shade." We all have different perceptions of colours, and sometimes the tone you're thinking of is different from your client and using the book as a conversation tool ensures everyone is on the same page.
Tips for Using the Swatch Guides
1) Use the Numbers
Each number gives you additional information. Colourists can gain a better understanding of the colour formulation, including the intensity of the colour or its neutrality.
2) Showcase your expertise
Making a recommendation based on each client's unique features creates a professional salon experience. Your clients are more aware than they were a few years ago, so you have to make sure you're creating a colour service that they won't be able to get anywhere else.
3) New beginnings
When you're working with a new client, it can be helpful in figuring out what level—light, medium or dark—and finding the natural levels in their hair. By doing this, you'll expose the contributing pigments—hair may go from brown to red to yellow to blonde.
4) Reassure your client
A specific colour can mean different things to different people. Showing a client the swatch book will help you determine how vibrant or subtle the client wants thier hair colour.
5) Determining the best Cool Tones
Using the book strategically gives you the guidelines to be able to see which cool tones have more violet or green and how you can mix these tones to customize the colour for your client.
6) Tonal quality
Taking into consideration, the underlying colour in your client's eyes and skin tone is really important in making the ultimate selection. When you remove the colour swatch from the book, you can see how it looks next to their complexion which is the best way to showcase the colour.
9) Colour play
For colourists, it helps to select and prepare the right shade, especially when it comes to creating neutral ones. As Lapointe explains, a client may want a neutral brown, but if she has a warm undertone in her hair, you may need use a brown with an ash tone.
What's next?
In the future, Lapointe says that techonolgy will allow digital swatches that will give online results and reinvent the salon experience.