This retro yet relevant look is a modern take on the past! The Bridgette Bardot-inspired cut is perfect for clients that don't want to sacrifice length and are looking to accentuate their facial features with a face-framing and volumizing look!
Sam Villa, global artistic ambassador for Redken and co-founder of Sam Villa, the education and styling tool company, demonstrates how to create the highly requested "Bardot Shag," a look which combines the top requests stylists often receive from their clients: effortless layers, a trim and a classic bob!
"The past is where we learn, the present is where we apply it," says Villa. "The timeless, effortlessly, layered volume and fringe of this Bardot-inspired shag is the perfect example of how technique can deliver a modern style rooted in a past trend that's full of the big volume and soft lived-in layers women want today."
Get the Look:
PRE-SECTION
Section 5 different areas. Note the profile view – side, top horseshoe section, center back and nape, note the curved nape section in back view.
STEP 1
Elevate the entire curved nape section 90° vertical with hand up against the head to ensure proper elevation. Cut a horizontal 90°finger angle with no over-direction with a Sam Villa Signature Series Dry Cutting Shear 7".
STEP 2
Divide the back area in the center to create a desired guide. Elevate the entire back left section diagonal 45° and cut the entire left back section with a finger angle 45° diagonal, maintain the length at the perimeter hairline.  Note the over direction to center back.
STEP 3
Comb the right front side area vertically to set up the over direction to right center back. Now connect this into the right back area. Elevate 45° diagonal and cut a diagonal 45° finger angle.
Repeat the same in the left front area combing vertically to set up the over direction in the left front.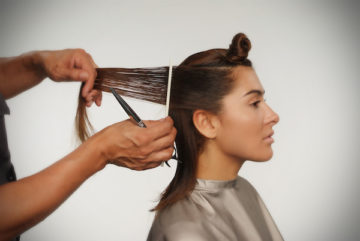 STEP 4
Pause and wrap dry the entire shape prior to cutting the top horseshoe. Note profile view, the top horseshoe area will be cut at least 2 inches longer than the underneath center back, do not connect. Work with horizontal sections across the top horseshoe section, elevation 90° vertical and deep point cut to create a soft diffused horizontal line.