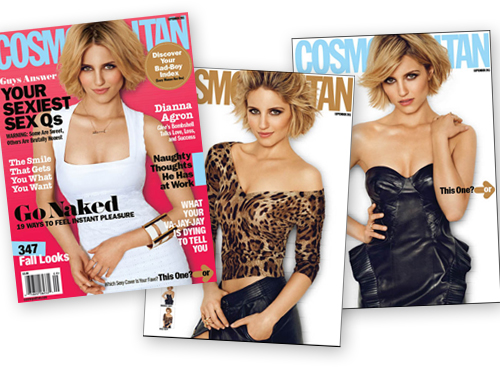 Celeb stylist David Babaii is the man responsible for Dianna Agron's three sexy styles on the covers of this month's Cosmopolitan. After she chopped off her long locks into a textured blond bob earlier this summer, Babaii's styling for the cover shows how versatile and bombshell her shorter hair can be.
He achieved the looks with three products, Couture Colour Pequi Oil, a medium hold, non-aerosol hairspray and an ionic blow-dryer.
Here's how he did it:
1. He started with a small amount of Pequi Oil, which he applied after towel drying then massaged into the hair.
2. Next, he blow dried her hair using his fingers to move her crop cut upward to create volume, while twisting small sections to create texture.
3. Once dry, he used the hairspray, which allowed the freedom to define and add additional texture to the hair.
4. For the first cover look, Babaii sectioned her hair down the middle, creating a de-structured part using his fingers to separate.
5. For the second, edgier look, he swept the fringe area to one side, while using additional oil on his fingertips to create enhanced movement.
6. For the third and final wild look, Babaii used his blow-dryer and additional oil on his fingertips to finger brush her hair back. He finished by lightly spritzing hair with hairspray.
Photos courtesy of Cosmopolitan Magazine.