We've gathered some tips from salon owners and seasoned hairstylists on how to maximize your downtime for success this year.
Downtime may be scarce for salon owners and hairstylists alike, but if you organize and maximize your time effectively, you'll be sure to reach your 2017 career and salon goals. The key: Focus your efforts on areas of your career or business that you'd like to expand this year. Below you'll find three tips on how to can maximize your downtime in 2017 for business and career success, whether that's expanding your presence online to boost bookings, expanding your professional network or flexing your creativity.
Create a Space for Social Media
Social media allows you to connect with a lot of potential clients, but how do you stand out from the crowd and ensure your social media strategy pays off in 2017?
"We've been dabbling in social media a little bit but after doing a lot of research about digital advertising, Google rankings and the like, I've found that social media is key to marketing your brand online this year and moving forward. That's why we decided to create an in-salon photo shoot area." says Jan Reeves, salon owner at Salon Corta Couture in LaSalle, Ont.
While it might seem like a large project, Reeves found it surprisingly easy. "Coming up with the idea, getting lighting, finding backdrops, getting a better camera, getting a tripod—those were all steps, but I reached out to a personal reference who does photography to recommend what they thought would be the best option."
Overall, Reeves notes that the biggest hurdle is simply deciding to do it and dedicating that salon space to your social media efforts. "It's actually fairly inexpensive to create and it gives a really professional look to both our posts and the salon itself. It creates excitement in the salon and adds to the client's overall experience."
Simply put, jump in and get it done because it's easier than you think and gives your online marketing efforts a clean, professional look at a fairly low cost.
Can't devote the square feet? Create an accent wall in a brighter area of your salon for a professional backdrop.
Team Up on Creative Projects
If your #2017goals include creative projects and photo shoots, spend your downtime networking with like-minded creatives.
Chad Taylor, co-owner of Moods Hair Salon in Vancouver, recommends starting local. "I started off making connections in the industry by doing some local photo shoots and fashion shows to get some experience. I was able to meet local talent and practice styling techniques that you don't often do in the salon."
In addition to making connections within your city, you can start developing your eye for photo shoots by picking up a digital camera and running test shoots. "Take some photos on your own to start to look at angles and silhouettes before investing in a photographer and team for your first shoot."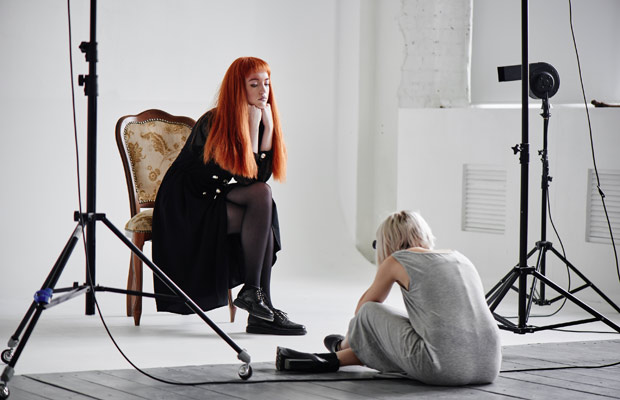 If you've already completed a few shoots and are looking to reach a little higher in any aspect of the industry, Taylor suggests finding a mentor who can assist you in learning the details of the craft and the business workings behind the scenes.
"Typically these will begin as a voluntary position but the experience is priceless. Look for someone whose work inspires you and simply reach out to him or her through email or social media. Let them know how you feel about their work and that you would be interested in volunteering your time to assist them," he notes.
"Remember that everyone started out their career this way so be patient and humble," adds Taylor. "At any point in your career, assisting a mentor is a great way to learn new techniques and it is ultimately free education. I've been fortunate to work with many industry icons including Orlando Pita, Guido Paulo, Laurent Philippon, Damien Carney and Sue Pemberton."
Don't Let Education Go to Waste
If you're investing in your education or if you're a salon owner who's footing the costs for your stylists' continuing education, don't fall into the learn-it-and-forget-it trap.
"I think its fantastic to get continuing education and many of the top brands are offering top-notch education opportunities at academies across the country, but how much do we practice the techniques we learn?" asks Edwin Johnston, artistic director for KMS California and owner of Cutting Room Creative in Nanaimo, B.C.
Stylists often attend a course or program but during their first day back in the salon, they into their usual habits and neglect to practice the techniques they just learned.
"Sure, they might try what they just saw on a client and perhaps use it once or twice, but to truly have success, you need to get out a mannequin and really break down the new techniques, practice them over and over again and make them a habit," he adds. "When we get into a good habit we tend to follow that trait and you'd be surprised how successful that can make you."
By practicing the new techniques you learn (or even old ones you're refreshing), you're more likely to kick bad habits or shortcuts and you allow your brain to tap into new patterns and your own creativity.
Sharing a quotation he once picked up from someone he admired, Johnston notes, "There's nothing advanced. It's all about practicing, practicing, practicing the basics."