Did a client slam your services online? Here's how salons can handle the situation.
The high hairdressers get when a satisfied client leaves a glowing review on sites like Yelp, CitySearch, or Google, can last for days. On the flip side, discovering that someone bashed your work or your salon online can make it impossible to sleep for weeks. Here's how hairstylists and salon owners can make things right and wipe out bad reviews.
Step 1. Act quickly and kindly.
First and foremost, ask for an opportunity to make things right; that's the right first response whether your client tells you about their disappointment privately, or whether they do it publically through a social media post.
Asking for an opportunity to make things right puts you on the high ground whether or not a client accepts your offer. It can help you solve the problem at the earliest possible moment and lower the chance things will escalate.
Even if the complaint came from a pain-in-the-patootsie-type of client, or was not fully justified, resolving the issue as soon as possible is usually going to be the best way to protect your business' reputation.
Step 2. Leave emotions out of your response.
Respond to negative comments as objectively – and briefly – as possible online. Identify yourself properly when posting a reply, and follow these guidelines:
-Point out factual inaccuracies in their story kindly by referencing salon policies or menus
-Don't make accusations. Steer clear of making "you" statements or other types of emotional comments that could be perceived as personal attacks
-Keep your response as concise as possible
-Avoid going back and forth with the reviewer
Step 3. Let other reviews speak for themselves.
While you may try to resolve the issue as quickly as possible, it might not be possible if the other party is – for whatever reason – unwilling to give you a second chance or let the matter go.
At this point, you may need to do a difficult thing, and simply do nothing. One bad review or rating among a dozen or more positive reviews is not likely to hurt your business or reputation. However, turning a bad review into a public fight might.
Step. 4 Contact the site administrator and try to get it removed.
If you determine that it is in the best interest of your business or professional reputation to get a damaging review removed, here are a few things to keep in mind.
Sites such as Yelp, CitySearch and other review sites as well as social media networks all have procedures for reporting libel, slander or bullying. Follow their procedures for requesting that a review or post be reviewed and removed.
Be as un-emotional and objective as you can when reporting the false review or social media post. This can be difficult because a bad review – especially one that contains inaccuracies or lies – brings up a lot of emotion!
Step 5. Set up your salon for online success.
Going on the offensive isn't just about taking on – or taking out – a bad online review. You can minimize the impact of any bad review left in the past the future by garnering positive reviews from your clients now, and on an on-going basis.
Be sure to engage with clients on social network, and encourage them to leave reviews about your work, or their experience in your salon, on review sites.
Step 6. Get feedback before clients leave the salon.
Establish a policy for your salon that provides for feedback at the time of service from each client. Wouldn't you rather know if something isn't right before the client walks out the door, so that you have a chance to make things right?
When you do receive a client complaint, develop procedures and in-house training so that salon staff know who will contact the individual, what types of offers you can extend in order to make them happy, and who will publically address negative comments online.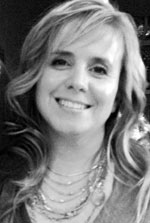 Seattle Area Marketing Consultant Elizabeth Kraus is the Author of By the Numbers: The 2014 Salon and Spa Marketing Calendar, available on amazon.com.
Photos: Hair: Adam Ciaccia, Axis Hairdressing; Photos: Jez Rozdarz; MUA: Jolina O'Hair/Thea Dowie; Styling: Sofia Polak/Nicole Dwight.