In this six-part series, we explore various disruptors that are changing the game for the industry.
More and more blow dry bars are popping up across the nation. And whether you're a salon owner or hair- stylist, the trend is likely affecting you more than you may know. Find out why this disruptor will make you want to pay closer attention to your finishing services.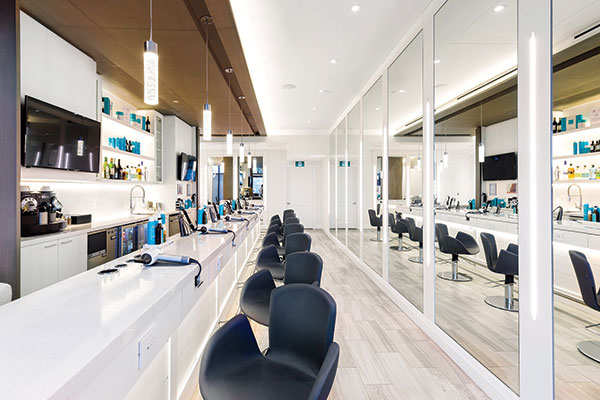 If you haven't noticed, there's a resurgence of blow dry bar chains popping up in Canada from coast to coast. And while you may think you know everything there is to know about them, think again.
Take Vent Blow Dry Bar, which opened in 2017 in Toronto's trendy Liberty Village. Their manager, Alysse Kathryn, is a licensed hairstylist with more than 12 years of experience, and a former stylist at Valentino's Grande Salon in Whitby, Ont. "I've worked at salons known for their really great blow-dries. I feel like I was drawn to them—watching them style and finish the hair," she says. "The process is so fun and creative."
On a grander scale, Blo Blow Dry Bar is a Canadian company taking North America by storm. Operating as a franchise model since 2009, Blo has expanded into the U.S., has four locations in Vancouver and nine in and around Toronto—four of which opened in September of 2018 with several more slated to launch later this year. "We continue to see really strong growth in the category," says Vanessa Melman Yakobson, CEO of Blo Blow Dry Bar. "People continue to come into the blow dry bar category, and customers are increasing their frequency [of visits]. They might learn about us for a special occasion, but quickly realize that [blowouts are] an affordable luxury and service they can enjoy on a regular basis."
Although regulations in Canada don't require hairstylists at blow dry bars to be licensed, Kathryn says that when hiring at Vent, she and her team try to choose hairstylists with either a freelance or salon background. "It just makes it easier when they are working on the floor to speak and understand our language."
As for training, Vent strives for cohesiveness making sure all stylists are "using the same techniques when achieving certain styles" to allow clients to receive a consistent result, even if the service is performed by different stylists.
Photos: Vent Blow Dry Bar