When CND launched Shellac, the first curable gel polish with 14-day wear, it revolutionized the nail industry. Now, the brand is doing it all over again with the launch of Shellac Luxe: a new two-step gel polish system with 60-second removal.
With an exclusive invitation to the two-day launch event at Malaparte in Toronto on July 22 and 23, Salon chatted with CND co-founder, Jan Arnold. "When Shellac launched eight years ago, I thought every woman in the world was going to wear Shellac—who wouldn't want to wear a nail polish that lasts for two weeks? But because of all of the fast-followers and knockoffs, there is a lot of confusion in the marketplace," she says. "We are not a follower. We are a leader and an innovator. There are [approximately] 31 per cent of women that don't want gel polish because they believe it will damage their nails or that it takes too long to remove. So, we went back into the lab and said 'for those women, we have to reduce removal time.'"
Shellac Luxe combines the base coat and colour coat into one step, helping reduce application time while providing thinner yet durable gel results. But that's not all. CND has also shortened removal time to just 60 seconds (yes, one minute!) all without any damage to the natural nail. "It took a couple of years, with new science and new molecules. The difficult part was opening up the structure so the acetone goes through without losing the nail's strength and shine. And they nailed it," explains Arnold.
As for why it's called Shellac Luxe? "We didn't want to lose the tie to the Shellac brand because there's a lot of value in that. But time is the new luxury," she says. "When we realized that you're saving 15 minutes per service, it's real luxury. When a customer can wear it for two or three weeks yet it can be removed in less than three minutes total—60 seconds once the wrap is on—it really is like a miracle."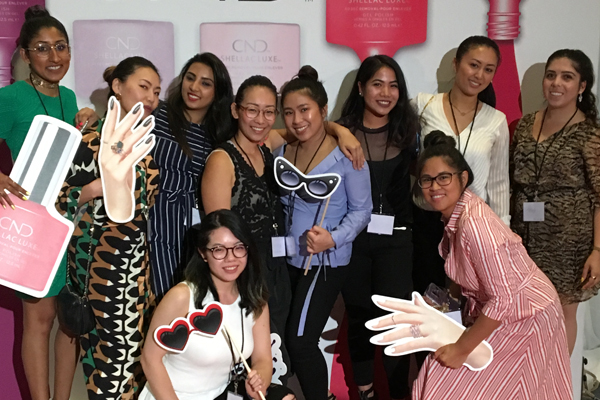 Prior to the event, it had been seven years since Arnold last visited Toronto (for the launch of the original CND Shellac) and she didn't disappoint. With her charismatic personality and undeniable passion for the brand, Arnold showcased her flair for fashion with a custom-made red corset, made from hundreds of long, shiny red acrylic nail tips—a gift from designer The Blonds, who Arnold and her CND Design Lab team have worked with for many years for Fashion Week.
"We started doing Fashion Week 22 years ago, and back then we realized that you would see a runway report and the hair, makeup and wardrobe were perfect, but the nails were bare. As a brand, we decided to knock on the door of young, emerging designers," she says. "We thought one or two would buy into it: Cynthia Rowley, Nicole Miller, and then what broke it all open was Oscar de la Renta. Once we did his show, the floodgates opened. Now, instead of just polishing nails on the runway, we can create art."
Also in attendance at CND Shellac Luxe's Canadian launch was Jessica Mulroney, who has recently been named a brand ambassador for CND.
"I started working with them two months ago and it's been great. I've been trying to understand all the new products and technology. And getting my nails done by the best people in the business is not a bad gig," says Mulroney. "Jan is really cool. She's so passionate about nails, and she instantly inspires you to be interested in what's going on in the nail world. She's inspired me to be a little more daring with my nails, even though I'm usually a little boring with my nail colour. She's definitely inspired me to shake things up a little bit."
In addition to her work as a bridal expert and stylist, Mulroney is a mother of three. With a busy schedule, Shellac Luxe is a perfect fit for her.
"Shellac Luxe is an incredible product. I've been waiting for it to come out since I've heard about it. It's very exciting because I truly believe it's going to revolutionize nails," she says. "Most women I know are busy, and no matter what their situation may be—if they're working or are stay-at-home moms—everyone values time in such a different way. The fact that it's cutting that time you have to spend in the nail salon; that's huge!"
For Arnold, she believes that making a gel polish service accessible to more women will benefit nail technicians and their clients.
"My goal is to get a brand new group of consumers who will fall in love with the service, because Shellac Luxe is so kind, gentle and beautiful," she says. "My other goal is to see nail professionals elevate their service—charge what they're worth and really secure their fame and fortune as artists."