Take a look inside this ultra-feminine and trendsetting salon located in the heart of Vaughan, Ont.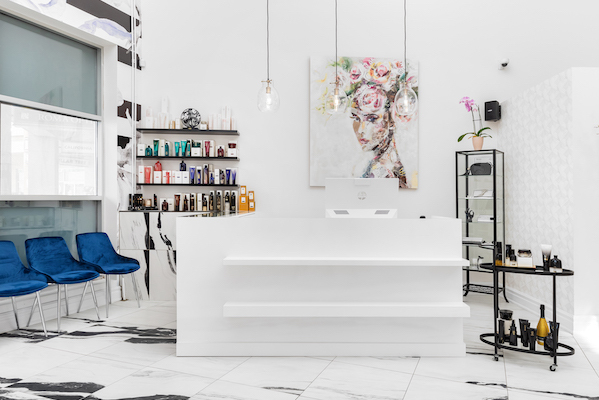 With a dream of creating "everything under one roof for the modern-day woman," entrepreneur Julie Brocca set out to open Define Hair Studio, a 3,000-square foot salon in Vaughan, Ont., offering everything from hair and nail services to spa treatments.
When first seeing the space, Brocca remembers thinking it was perfect and full of potential. Although she thought others would think the space was too large, she knew it was an ideal size to create her vision in.
"I wanted to develop a landmark for the community, offering all hair services (we even have a wig room!) and any other beauty service you could think of, such as microblading, makeup, lip tattoos and more," she says. "It's a really special place where there's something for everybody, and every woman leaves feeling beautiful."
Capture This!
Upon walking into the salon, guests are mesmerized by the 60-foot ceilings, sky lights and airy, open concept feel.
"From the moment you walk in, you get this heavenly feeling," she says. "With white and clean interiors and two accent walls that really pop, the design of oursalon is very social media-friendly! Clients love taking photos on our flower swing, and of our custom angel wings art work and cherry blossom trees."
Detail-Oriented
Brocca says it was important that great lighting was featured throughout the salon, and that the small details weren't overlooked.
"Being a hairdresser my whole life, I made sure every little thing was incorporated into the space," she says."I addressed everything I'd want as a client—from the décor and lighting, down to the service experience. I wanted to provide clients with luxury services that won't break the bank, but still make them look and feel fabulous."
She also stresses the importance of creating lasting relationships with clients. "Our team is very friendly and authentic, which is super important when running a business. Our vibe and aesthetic is all about openness and making people feel welcome."
"Our reception area is huge and makes an impact as soon as you enter the salon," she adds. "Although our salon is open concept, we made our colour bar private so other guests can't see what's happening in the colour area. Some clients like privacy when they have their foils in, and they really love the privacy they get there."
Behind the front desk is a portrait of a woman, and Brocca says it served as the inspiration for the aesthetic of the whole salon.
"I bought the painting before I even found this space. It was everything for me; I loved it and still love it so much. The woman has newspapers and flowers in her hair, and just emanates beauty, so it had to be on display. We decided to put her behind the custom-designed reception desk, which is a huge focal point of the salon."
Keeping in mind that the space is so large, it was important to Brocca that the flow and cohesive design worked in tandem.
"Our designer, Sandra Fiore from Fiore + Greco, really helped with the flow as I insisted there needed to be a guiding current for the client," she says. "The design and pops of colour were all me. I felt it was important to infuse my style and energy into the space in order for my vibe to feel tangible to the client. I wanted it to be a sanctuary and happy place for them as much as it is for me."
Lasting Beauty
While Brocca jokes that she gets bored very easily, she says she wouldn't want to redo such a large space, so she opted for a timeless design: Simple white with pops of gold for some elegance.
"Creating something universal and classic was important for me," she says. "We've created this feeling of spring and colour and happiness here. I always say that it's a floral spring feeling 365 days a year. It's like you're on perpetual vacation, and how could you ever get bored of that?"
Details
Opened December 2019
Design
Fiore + Greco
Space
3,000 square feet
Team
8 hairstylists/colourists 1 receptionist
Brands
Oribe
Kevin.Murphy
Bellami Hair Extensions
Website
definehair.ca
Instagram
@define_hair_studio