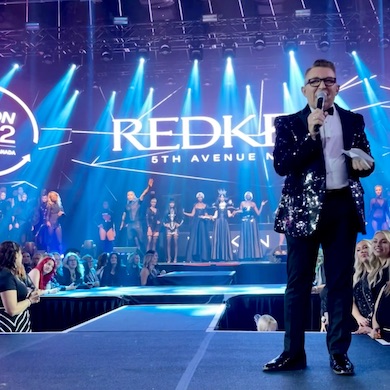 On Sunday, October 16th, Redken kicked off their 6th annual Fusion event.
The three-day education event was held at the Westin Harbour Castle and included a cocktail party and grand opening celebration, on-stage education seminars, and a neon-themed closing party and dinner. 
Redken Canada's general manager, Jack Ingraham, and the director of education and events, Terry Ritcey, opened up the night by welcoming its artists and hairstylists who gathered from across Canada for the event. Also in attendance were the brand's distributors including Alternative Beauty Services, Concept JP, Icon Salon Systems and Summit Salon Services.
Produced by Pascal and Jérémie, the grand-opening hair show was filled with inspiration and featured runway shows and live hair demos by Redken artists such as Sam Villa, Sean Godard, Cindy Duplantis, Jorge Joao, Catherine Allard and more.
The following two days of the event consisted of education classes led by the brand's global and Canadian artists and educators, and covered a wide range of topics from haircutting and colour to styling and finishing and more. 
Redken's global artistic ambassador, Sam Villa, kicked off the Monday classes with on-stage demos of trending haircuts and techniques on how to achieve them efficiently in the salon. 
Redken's top colourist (who's originally from Canada!) Sean Godard was joined on stage by the brand's artist Twylla Jane and international artist Nicole Van Der Linden (all the way from the Netherlands!) for a class on hair colour hacks. The trio broke down their top tips for lightening, foiling and colour with a variety of looks that included highlights, root shadows, and time-saving techniques for adding dimension and contrast.
Global artistic squad members Adina Doss and Brayden Pelletier took the stage to showcase trending and effortless hair designs while sharing their top consultation tips.
To close out Monday's education lineup, Godard and Van Der Linden took the stage again with global artist Marco Arena for a class on how to get your work published. The trio shared their top tips on photo shoots and editorial hair.
For Tuesday's classes, Montreal-based artist Catherine Allard was joined on stage by educators Katrina Smiley (from Kincardine, Ont.) and Tasha Parker to share their top tips and techniques on transformations—everything from money pieces and high-impact blonding on short hair to fringes and shags. The trio also shared ways that stylists can attract their ideal clientele with the power of social media. 
Montreal-based artist Jeremy Wilde took the stage with international barber educator Boudewijn Jurriaans (aka. Barber Birdman) to share genderless barber techniques that ranged from fades to mullets. 
Toronto-based artist Jorge Joao was joined by global artists Lindsey Olson and Marco Arena for a class on finishing. The three shared fast and easy tips and tricks on how to finish looks on all hair types and textures.
During the event, it was announced that education and events director, Terry Ritcey, would be retiring at the end of 2022. The news comes after Ritcey recently celebrated his 20th year with the brand, and his 46th year working in the professional beauty industry.  
To close the three-day event, Ritcey took the stage to speak about his time with Redken and its commitment to education. General manager Jack Ingraham shared a video montage to honour Ritcey and thank him for his incredible work and passion for the brand.[/vc_column_text]