So long, unicorn! The newest crop of fresh pastels is toned down and infused with sophistication. Here's your cheat sheet.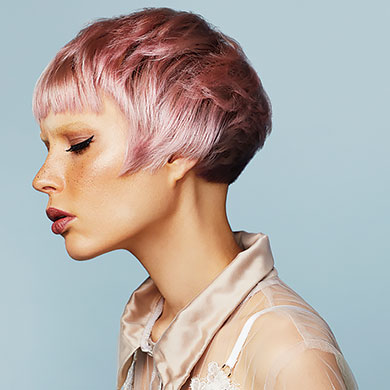 Is this a new case of "less is more" in hair colour? "More women are looking for less intensity and more delicate tone directions," says Susan Boccia, education manager for Schwarzkopf Professional Canada. "This trend started in fashion and has leaped into hair colour. Women still want to have fun with their individual choice of colour for spring/summer, but they're looking for softer tones."
Toning it down
Some say the pivotal moment of change happened when Josh Wood created this "anti-unicorn" hair colour to match Marc Jacobs's spring/summer 2019 collection. "There was a coolness to the fabrics and a feeling of history behind them, so I layered the hair colours to make them look worn in," Wood told Humble and Rich, a fashion review website.
Catherine Allard, an international artist for Redken, says these pastels are more grown up and have a more natural look to them compared to unicorn shades. "They're great for evoking a more romantic, feminine look."
Creating dustier shades
"Utilizing semi-, demi- and permanent colour can allow the colourist to customize individual shades for each client," says Boccia. "Usually, you would choose shades that are lighter in level, with less pigment direction, using colour tools designed to allow dilution. For example, the clear gloss in our Igora Vibrance demi-permanent colour line allows for creating the softest, most delicate tone directions. Igora Royal Pastelfier is a tool in our permanent assortment that allows for complete creativity in diluting any shade." Allard recommends creating a more powdery base to help tone down the intensity and vibrancy of colour.
"Once you lighten the hair, treat it with the Chemistry Extreme Shot from Redken to boost hair's protein. This will also help give longevity to your new colour," she says. After this treatment, Allard makes a "flash tone" with a cool Shades EQ hair gloss in order to neutralize the warmer tones that might still be visible. She says the best tones to achieve this are ash tones like violet, natural, pearl or titanium.
The Maintenance
To boost colour between lightening services, clients should book an appointment three weeks after the original process to add a toner and ensure the look stays flawless.
At home, the routine is the same for a regular pastel: Shampoo and conditioner formulated for coloured hair. "It's important for the client to use products at home that not only protect the colour direction but also protect and maintain the quality of the hair," says Boccia.
Credits: Hair and Colour: Sabrina Fetterkind, Biba, Australia, Makeup: Bernice Mansfield, Styling: Vy, Photo: Karla Majnaric; Instagram