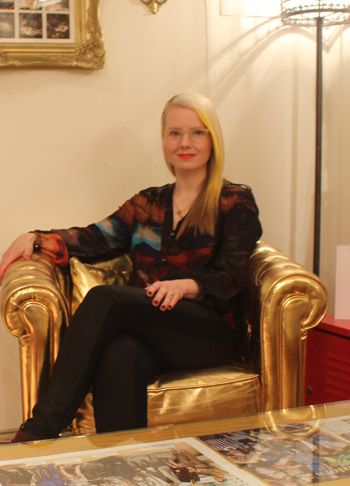 As the owner of June Croken Hairdresser on Fire, a salon in Toronto's trendy Queen West neighbourhood, June Croken understands not only the importance of building a strong client base but also the need for establishing a solid retail plan. In fact, Croken's one-woman salon operation—she's the stylist, receptionist and retail sales staff—has meant that her focus on generating retail sales has translated to a healthy salon business.
Retail
For Croken, cultivating her salon's retail capacity means that "you have to love what you sell". As a Kevin.Murphy salon, Croken established a solid relationship with the brand, simply because she believes wholeheartedly in the product line. With her salon's modest square footage, Croken only stocks the back-bar products that she actually sells on her retail shelves. "Always have stock," explains Croken. "It allows you to seamlessly transition clients from old products to new ones."
Sales
When it comes to ringing in the sales, Croken maximizes the time her clients spend in her chair by offering each one personalized hair education. "We talk about the quality of their hair, their needs, how the season affects their hair," says Croken. "It's an integral part of the haircare experience." Along with educating her clients, Croken says that consistently offering samples allows her clients to employ a try-before-they-buy philosophy. "We all have that bin of products in our bathrooms," says Croken, who is adamant about sending clients home with the right products for their hair.
Personalize
In fact, when guests walk in requesting a specific product—one that Croken believes may not be a good fit for their hair type, style or colour—she'll offer the requested product in a sample size, along with a product that she thinks may be better suited to the client. "Getting clients to use what's best for them even once will help their hair," says Croken, adding that she also sends clients online for additional product information at home.
Philanthropy
Along with her commitment to retailing, the salon owner believes in supporting chaitable causes, including the Movember Foundation. This past year, Croken raised funds for the foundation by wearing a different mustache every day in November. For some, Croken's philosophy may seem like an unconventional salon approach, but it has been a strategy that has enabled her to keep her salon business on the uptick even during less-than-lucrative economic times. Bottom line? "I treat everyone as I would want to be treated," says Croken, of her honest, straightforward approach that will undoubtedly keep this hairstylist's business smoking hot.
Mixing vintage and modern furnishings, June Croken incorporates some of her original artwork to create a relaxed and inviting salon atmosphere. A series of floating shelves occupies prime retail real estate, maximizing the wall space in the salon's reception area.
Photos: Stephanie MacDonald
Save