Kevin.Murphy has done a really great job catering to the luscious locks of women, but now it's time for the guys to get the goods with the new Stimulate-Me.Wash, Stimulate-Me.Rinse and Thick.Again treatment.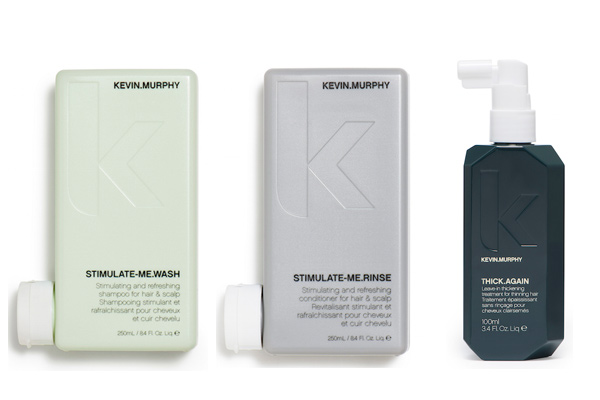 What it does: The new offerings from Kevin.Murphy helps to rejuvenate and thicken strands, helping hair grow and preventing hair loss.
How it works: The Stimulate-Me.Wash and Stimulate-Me.Rinse use camphor crystals, bergamot mint and black pepper to help stimulate the scalp by increasing circulation while promoting hair growth. The Thick.Again treatment uses apigenin, oleanolic acid and lovely hemsleya root to help slow down the aging of hair follicles, preventing hair loss, while also lengthening hair's growing phase.
Best use: Starting with the Stimulate-Me.Wash, massage into wet hair and scalp and rinse. Follow up with the Stimulate-Me.Rinse, massaging into clean hair and scalp, leaving on for one-two minutes before rinsing out completely. Spray the Thick.Again treatment onto towel-dried hair, directly onto the scalp and roots, but do not rinse out.
Available: February 2015