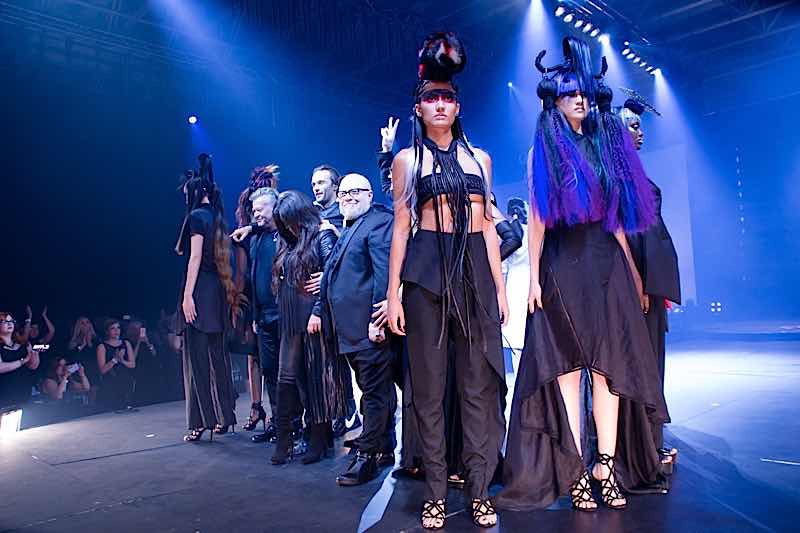 One of the biggest branded hairstyling competitions in Canada, L'Oréal Professionel's Color Trophy was back in Montreal for its 2016 gala.
Featuring breathtaking presentations from L'Oréal Professionnel Canadian portfolio artists led by Artistic Director Guylaine Martel, and international guest artist Berni Ottjes, the Color Trophy combined fashion appeal, inspirational creativity, and two live competition segments.
International guest artist Berni Ottjes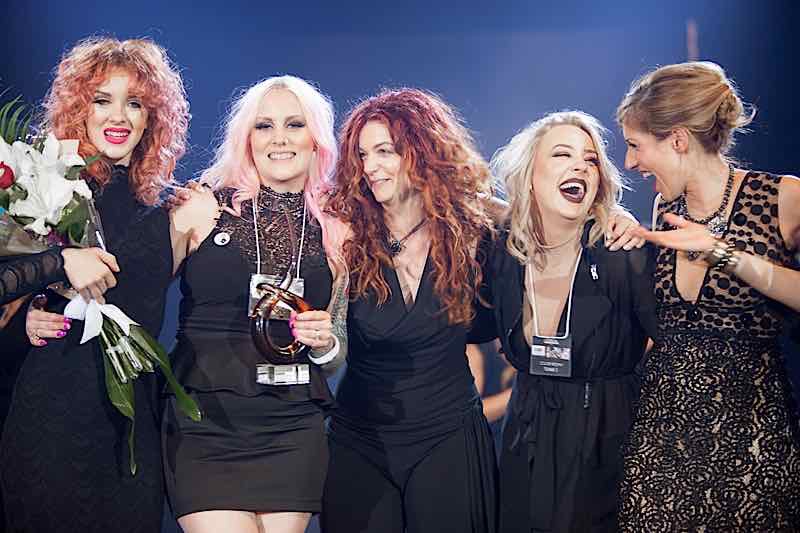 Color Trophy 2016 Winning Team from Suki's salon
Hosted by Mitsou Gelinas and Tracy Moore, the event rewarded Canadian talents with 10 trophies.
Congratulations to the winners of the 2016 edition of the L'Oréal Color Trophy!
SCHOOLS
Elizabeth Schloss from Marca College
NEXT GENERATION –BEST MAKE UP
Katie Foster from Taz
NEXT GENERATION
HAIRSTYLIST / COIFFEUR: MAXIM BRISSON
COLORIST / COLORISTE: Catherine Simard
MAKEUP / MAQUILLAGE: Marika D'Auteuil
MODEL / MODÈLE: Rosalie Bonnenfant
SALON: Guylaine Martel Artistes Coiffeurs
MASTERS
Shanti Soulières –Salon Guylaine Martel artistes coiffeurs
COLOR TROPHY–Best MAKE UP
Virginie Simard Trudeau – Salon Guylaine Martel artistes coiffeurs
COLOR TROPHY-PEOPLE'S CHOICE
HAIRSTYLIST / COIFFEUR: BARRY SHAW
COLORIST / COLORISTE: Barry Shaw
MAKEUP / MAQUILLAGE: : Terra Thomas
MODEL / MODÈLE: Jessica Edgell
SALON: Thomas Baillie Hair
COLOR TROPHY –EDITOR'S CHOICE
HAIRSTYLIST / COIFFEUR: AURELIE JARNET
COLORIST / COLORISTE: Ashley Hood
MAKEUP / MAQUILLAGE: : Sage Marriott
MODEL / MODÈLE: Julie Claire Forhn-Nielson
SALON: Suki's
COLOR TROPHY -3RD PLACE
HAIRSTYLIST / COIFFEUR: MARJORIE MORGAN
COLORIST / COLORISTE: Marjorie Morgan
MAKEUP / MAQUILLAGE: : Tammy Fonseca
MODEL / MODÈLE: Alisha Rousselatos
SALON: Salon You
COLOR TROPHY -2ND PLACE
HAIRSTYLIST / COIFFEUR: PAUL MILLER
COLORIST / COLORISTE: Paul Miller
MAKEUP / MAQUILLAGE: : Tanya Read
MODEL / MODÈLE: Isabella Oberg
SALON: Jax & King Salons + Workshop
COLOR TROPHY –WINNER
HAIRSTYLIST / COIFFEUR: AURELIE JARNET
COLORIST / COLORISTE: Ashley Hood
MAKEUP / MAQUILLAGE: Sage Marriott
MODEL / MODÈLE: Julie Claire Forhn-Nielson
SALON: SUKI'S
Photos: P&P ImageFactory
{igallery id=162|cid=2140|pid=1|type=category|children=0|addlinks=0|tags=|limit=0}
Save