Mentorship is at the heart of the beauty industry. While clients can lean on their stylists and beauty pros for their expertise, knowledge and skill sets, who can beauty pros rely on when they're in need of those very same things? Finding a good mentor can mean all the difference between finding those answers, improving skills, furthering careers and even growing the industry. Plus, with new trends constantly emerging, techniques are evolving, so it's vital that we share our knowledge with others in the industry to keep it alive and well.
PRO TIP IF YOU'RE LOOKING FOR A MENTOR, DON'T WAIT FOR THEM TO COME TO YOU. FIND A STYLIST WHOSE WORK YOU LIKE OR WHO YOU WANT TO LEARN FROM AND ASK THEM FOR THAT SUPPORT!
"I was a mentee because, like other hairstylists, the academic part of school was very difficult for me," says Dana Lyseng, a Vancouver-based salon owner, hairstylist and top artist for Wella Professionals. "It wasn't until I had my hands in hair, practising and tactically working on skills, that I really, truly learned and understood my trade. If I had been doing that alone [without a mentor], it would've been a very long, overwhelming and diminishing process. The fact that I got to do that with people who had experience, expertise and the ability to shape and grow me was amazing."
What Does Mentorship Mean? 
Mentorship can mean a number of different things to different people, and each mentee might have different expectations and needs for their mentors. However, at its very core, mentorship within the beauty industry means offering a helping hand, as well as your time and attention, to those who ask for it. "To me, a mentor means somebody who's there for you," says Reema Jaber, a salon owner, hairstylist and ambassador for Schwarzkopf Professional based in Mississauga, Ont. "Someone who's not just there to provide daily education but who's there for you if you have an issue with a client, if you need advice on anything related to the industry or even if you need help with a formula." "Being a mentee isn't something you have to do," adds Lyseng. "It's something you choose to do. Whenever I'm mentoring someone, I take it very seriously and I really understand that the mentee has chosen to be in an environment of support and help. I really value the concept of mentored education, so when someone has chosen that, we have to take it seriously." For Guylaine Martel, a Quebec-based hairstylist and L'Oréal Professionnel educator, being a mentor means having the experience in the industry to share. "It's having enough experience in the field, whether it's for styling, cutting, hair shows, competitions, teaching, content creation, or coaching," she says. "You need to master all these different aspects. And for mentees, it means job safety, tools, organization, a work structure and a unique know-how."
"BE PATIENT WITH YOUR MENTEES. WHEN YOU SHOW THEM PATIENCE, IT'S SO MUCH MORE REWARDING BECAUSE YOU GIVE THEM THE CHANCE TO GROW AND YOU GET TO SEE THAT GROWTH." —REEMA JABER, MISSISSAUGA-BASED SALON OWNER, HAIRSTYLIST AND SCHWARZKOPF PROFESSIONAL AMBASSADOR
Why Mentorship Matters 
Although we live in a world where information, tips and how-tos are readily available at the click of a button, mentorship is vital in continuing to grow the beauty industry. as it offers much more than you can learn online or independently. "I think in this industry, unfortunately, we don't really learn much from hair school," says Jaber. "We learn a little bit of the foundations, but at the end of the day, the best hairstylists work at salons that they can really, truly grow in. I think [mentorship] is important in this industry because, depending on which salon you work in and which mentor you get, in addition to hard work, that's what determines how fast you'll grow and where your career can take you." "Mentorship can help stylists grow in many ways," adds Martel. "It can give them confidence in their work, organization and structure and can help them master all the different steps [it takes to create a look, style or colour]." Amanda DeGiobbi, an Albertabased hairstylist and artistic educator for Matrix, adds that the demand for mentorship is there, but it can sometimes be hard for new stylists to find it. She encourages salon owners and experienced stylists to take a chance on the new generation of beauty pros, despite their lack of experience or clientele, because that's when they most need a mentor. "I find these new stylists are so eager to learn, watch and grow," she adds.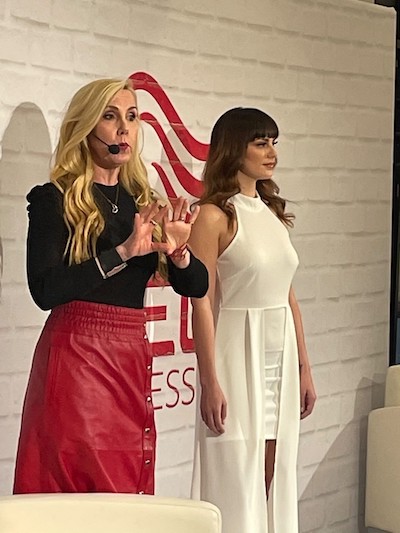 "I take on apprentices myself, and there's so much energy and vibrancy with these students and they want to absorb as much knowledge as possible. Of course, they're going to make a lot of mistakes, but they're going to be longterm employees for these salons as long as the owners and more experienced staff are willing to do the training and mentor them. Ultimately, that's what's going to benefit the industry as a whole." In addition to helping new stylists develop their skills and knowledge of the industry, mentorship can provide inspiration and motivation to stylists who may feel stuck in their careers, as well as help with setting goals and creating a sense of community within the industry. "The reason why I participated in a mentorship program, and something that other stylists also face, is that being behind the chair for so long, it's easy to lose motivation," says DeGiobbi. "We start to second-guess if we should stay in the industry. When I feel that way, I look for outside inspiration. Mentorship helps you think outside of the box and can even open doors for other opportunities within the industry." "I'm not someone who believes that experience and expertise go hand in hand," adds Lyseng. "I think that's true in any industry, but I'm a very big believer in the 10,000-hour rule. I believe that the more you practise, the better you're going to be. Hairstyling is a virtue, and it's something you need to practise and develop. If you don't do that, your skills will become stagnant." Over the past few years, we've seen a major shift in the beauty industry regarding how salons are operating. While traditional salon environments remain and facilitating mentorships within those salons can be easier, for those stylists who have chosen to go independent, mentorship remains in demand but can be hard to find. "As an independent stylist, it can be harder to get education and mentorship," says DeGiobbi. "As someone who has been in the industry for 12 years, the mentorship program [Matrix's Mentor. Me] I participated in last year was my first opportunity to be mentored. Mentorship for an independent stylist can help you make connections, push your limits, make friends within the industry and learn about opportunities such as competitions, which can otherwise be hard or scary to get involved in."
PRO TIP LYSENG ADDS THAT, WHEN IT COMES TO MENTORING, IT'S IMPORTANT TO HELP YOUR MENTEES THINK CRITICALLY SO THAT THEY CAN DEVELOP THEIR INTUITION. "RATHER THAN ALWAYS GIVING THEM THE ANSWER, IT'S REALLY IMPORTANT TO HELP THEM FIGURE OUT THE ANSWER THEMSELVES," SHE SAYS. "IT CAN BE HARD BECAUSE YOU ALREADY KNOW THE ANSWER, BUT ASK THEM THE RIGHT QUESTIONS TO HELP THEM GET TO THE SOLUTION."
Sharing Is Caring 
A common misconception about mentorship and sharing knowledge within the beauty industry is that those you help will become your competition. It's important to remember that sharing your knowledge will not only help others but also facilitate your own growth. "I'm someone who really believes in serendipity, so I feel like anybody who comes through my door is supposed to be there," says Lyseng. "So if they ask for help, we have to give it to them. I'm someone who truthfully, in my heart, believes that those of us who have been taught should teach and that's the only way to grow the industry. Even if the best hairstylist in the world shared all of their trade secrets, nobody could ever be them or be better than them. The industry as a whole just becomes better." "I think it's important to just have love for everybody," says Jaber. "It's important to remember that there's room for everyone and that there are enough clients for everyone. To have the fear of not wanting to mentor because others will become better than you is an old mentality, and I think it's important to be there for other stylists, whether they work at your salon or not." "The goal is to help others grow," she adds. "For me, if a stylist I've mentored leaves to open their own salon, I don't take offence from that. I gave them those tools to make a business and a name for themselves, and I can't ask for anything more than that." Martel adds that when she mentors, she shares everything she knows. "There's a lot of training and meetings that go into mentorship, but there are no secrets," she says. "I became an educator so I can pass on my passion and expertise while helping to develop any stylist around the world."
"[MENTORSHIP] IS NOT A LADDER; IT'S A MERRY-GO-ROUND. THE VALUE OF THE TEAM IS WORTH MUCH MORE THAN THE SUM OF THE INDIVIDUAL" — DANA LYSENG, HAIRSTYLIST AND OWNER OF SUPERNOVA SALON, NORTH VANCOUVER 
From Mentee to Mentor 
Although it can be easy to forget, even the best mentors and most seasoned stylists were once mentees themselves. Keeping this in mind and reminding yourself of where you started can be a great motivator to becoming a mentor. "Mentorship was something that was done for me," says Lyseng. "I was an apprentice for three years, so I naturally moved into a salon where I was mentored, and it changed my life. It created an environment of continual support, education and innovation, and it was something that I cherished then and still do to this day. It changed my life as a hairstylist, and I think it's really important that you surround yourself with people who help you to become better." "Even to this day, when I'm creating collections for competitions, I get mentored," she adds. "Michelle Pargee and I have been great friends for over a decade now, and she's been there for me for the past couple of Contessa shoots I've done. [Having a mentor at any stage of your career] can help push you to be better. We can't continue to grow if we don't put ourselves in those kinds of uncomfortable situations." DeGiobbi shares that, because of her mentorship, she was able to take her career to the next level. "After my mentorship program was finished, I, along with another mentee, got asked to join the team as educators," she says. "The mentorship elevated my techniques and skills and opened new doors for me, so now I get to teach and mentor because of it." "I've had so many mentors throughout my career," adds Jaber. "From previous teachers when I was in hair school to the owner of the first salon I worked at to people I meet to this day, they've taught me so much. I really felt like I could trust their opinions, and the genuineness they've shown me is what I want to show those who I mentor now." 
Facilitating Mentorship 
When it comes to mentorship, some methods may be more successful than others. Having an open mind and the willingness to teach are both great places to start, but ensuring that you're doing right by your mentees is most important. "For me, becoming a mentor just kind of happened," says Jaber. "I was working in a salon and noticed that there just happened to be two or three apprentices around me at all times, asking me questions while I was working on my clients. I love sharing and, at the time, it just came naturally, even though I didn't even realize what was happening." "At my current salon, the moment a stylist joins our team, we let them know that, as a senior stylist, it's their duty to train the assistants and apprentices," she adds. "Every day, a senior stylist mentors an apprentice, and every day, we rotate. That way, the apprentices get to absorb as much knowledge from as many different people as possible. We also ensure that the apprentices are on the floor, doing hair on or before the one-year mark of them being with us." Jaber also adds that her biggest advice to mentors out there is to share their knowledge without expectations. Sharing with love, an open mind and an open heart, without expecting anything in return, is a surefire way to be a successful mentor. For Lyseng and her salon, facilitating education plays a big role in how she mentors her team. "We close the salon about three times a year for a whole day and we bring in education that the team wants to see," she says. "It's really important that I, as an owner, continually offer opportunities for people to grow if they want those opportunities. The trends are changing so quickly that we always need to feel current and on the pulse." "I think the point of mentorship is to help stylists learn from their mistakes while helping them think outside of the box," adds DeGiobbi. "Show them new possibilities and outcomes that may challenge them, and make sure they aren't afraid to ask questions."
"I BECAME A MENTOR TO ENSURE THE QUALITY OF THE NEXT GENERATION. I BELIEVE IN THE POTENTIAL OF ANY STYLIST, AND I WANT TO HELP THEM REACH THE TOP." — GUYLAINE MARTEL, HAIRSTYLIST AND L'ORÉAL PROFESSIONNEL EDUCATOR, MONT-SAINT-HILAIRE, QUE.
Opportunities for Growth Through learning and working under a mentor, you may be looking for new paths and opportunities to take your career to the next level. From competing to teaching, and working with a brand to social media, the opportunities for your career are endless. "The beautiful thing about this industry is that there's no place for boredom," says Jaber. "If you feel like you're ready for a change from working behind the chair, you can start educating, working in hair behind the scenes of television and movies or becoming a full-time content creator, like many in the industry have." "I would say competing is number one if you want to get your name out there in the world, meet people and grow," adds Lyseng. "There are industry competitions all year round, and if you want to be on a billboard someday, you need to throw your hat in the ring." Martel adds that, to her, competing can also help you improve your skills, as well as increase your work ethic. "Competing helps you have a structure, push the creative process to the limit, respect a guaranteed result and manage your emotions, stress and confidence," she says. "It also helps to work faster and more effectively with perfection, which helps with the work you do in the salon."
There are also many opportunities to work with different brands in the industry and different avenues you can take to play on your strengths. From creating digital content to teaching online courses, from onstage education to live demos, experts say that the best way to get noticed by a brand is by finding one that you align with and getting them to notice you by attending their classes, tagging them on social media and networking with their existing artists and educators. "Once you find passion in a brand, it gives you the motivation to work with them," says DeGiobbi. "Once you do that, you can go online and find an educator from that brand in your area and ask questions." "Being an educator helps you to be ahead of the trends, learn how to work as a team, push your limits, have structure, understand what happens behind the scenes and understand the product formulas in a professional language," adds Martel. "When you work with a brand, you embody that brand's values. The brand makes you shine, and you get to be part of that."