As seen in our 25th anniversary issue, we revisited products that were major game changers. Here are some breakthrough products that changed the game for nail trends over the years.
Nails continue to be a growing beauty segment, with more and more salons adding these services to their menu. And while traditional nail lacquer is still popular, it's taken a backseat to the long-wear and gel innovations of today.

Gel Polish
Since the development of CND Shellac Power Polish in 2010, the gel polish category has grown significantly. While the longevity (up to two weeks of wear) is a key selling feature, the removal (soak-o gel wrap) helps ensure that there is no damage to the natural nail.
LED Lamps
With less maintenance involved (i.e. no more changing light bulbs!), LED lamps have quickly replaced UV lamps in most nail salons. Thanks to improved technology, both nail technicians and clients can also enjoy the faster curing time—30 seconds compared to two minutes.
Long-Wear Polish
Over the past 25 years, nail polish has been divided into sub-segments, one of which is long-wear. Delivering up to seven days of wear, these polishes have become a staple since nail art has (and continues to) become a major trend.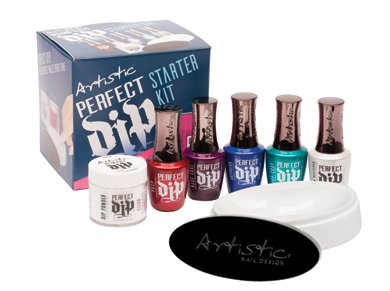 Enhancements
While acrylic and base gels are still around, more and more salons are forgoing these options in an e ort to "clean up" the experience (minimizing the smell and mess) for their clients. Enter: Dipping powders. While the polymer powders used are similar, dipping powder systems use a liquid resin or base coat, and activator rather than liquid monomer. In other words, it's a faster application with more natural-looking results.