It was a night to remember, right in the heart of celebrity central, at L.A. Live in Los Angeles! Electricity was in the air as it was time to select the gold winners from the North American Trend Vision Awards (NATVA) from Wella Professionals who will be going to Monaco in November 2014 for the final leg of this prestige hairstyling and colour competition.
Canadian Colour gold winner Emily Murphy
Brilliant presentations
Introduced between winners' announcements for Student, Young Talent and Color categories, hair creations signed Sassoon Academy, Sebastian and Tim Hartley presentations took everyone's breath away.
Sassoon Academy segment
Striking, futuristic hairpieces made of transparent plastic overlaid on simple but oh-so-perfect bobs stole she show during the Sassoon Academy segment, while Sebastian focused on 50 shades of green, as seafoam-coloured hair was teased, elevated and tucked with unrestrained artistry.
Sebastian segment
Tim Hartley demonstrated his sheer genius with shears gently cutting hair to reveal striking creations. The presentations segments finished with Hester Wernert-Rijin, for Wella, who presented the most poetic pastel palettes and styling that was stunning in its sophisticated simplicity. The night finished with a bang when Blondie came onstage to sing her legendary hits to an adoring crowd.
Hester Wernert-Rijin for Wella
Winners and runners-up
The gold finalist in each category will be going to Monaco, next November, for the final TrendVision 2014 competition. Good luck to all!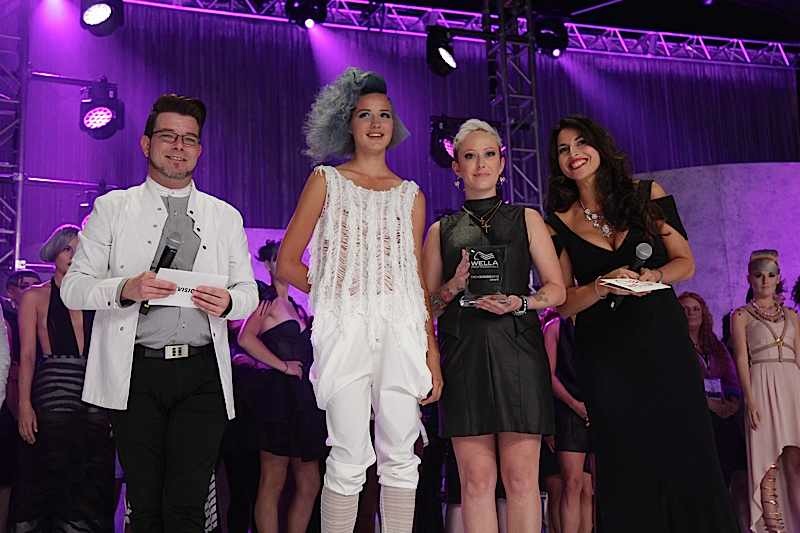 Color silver Canada Anna-MIra Predescu
Young Talent Canada gold Fernando Monge
{igallery id=4707|cid=1002|pid=1|type=category|children=0|addlinks=0|tags=|limit=0}
Student CANADA:
Gold – Amanda Stellato
Silver – Brenda Hurtado
Bronze – Cindy Ngo
Student USA:
Gold – Ashton Morgan
Silver – Haley Marshall
Bronze – Autumn Macias
Young Talent CANADA:
Gold – Fernando Monge
Silver – Olivia Chafe
Bronze – Rick Basil
Young Talent USA:
Gold – Alisha Basham
Silver – Todd Da Silva
Bronze – Taylor Smith
Color CANADA:
Gold – Emily Murphy
Silver – Anna-Mira Predescu
Bronze- Mathieu Hubert
Color USA:
Gold – Brenton Lee
Silver – Michael Haase
Bronze – Shirley Gordon
Photos: Alain Comtois and Wella Professionals