Our "So You Think You Can Style?" winner for the Bridal Hair photo-contest is Paje Pokjowy, owner of HONOR Beauty in Niagara Falls, Ontario! We love the intricate detail of her updo, and the way she incorporated a major bridal trend, the headband. Her image will be featured in our May/June issue of Salon Magazine!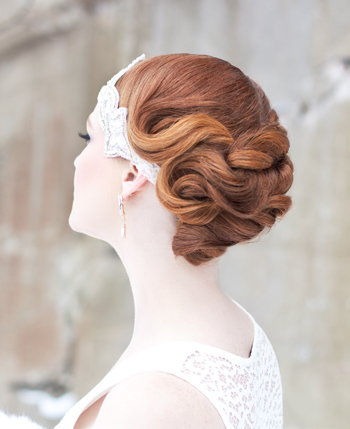 Pokjowy has been a makeup artist for 10 years, and just recently started offering hairstyling to her clients: "I wanted to enter this contest to show myself and others that it's possible to be a great hair stylist if you have a passion and a vision for your talents. I'm also self taught in up styling and feel like if the passion and confidence are there, the creative possibilities are endless!"
So how do you get your foot in the door? "I highly recommend being active on social media, joining Facebook pages of companies in the industry and always allowing yourself to create styles that will cause a positive reaction and inspire others. Even though it's nice to be paid for our work, it's always fun and necessary to reach out to other creative individuals in the industry like photographers, makeup artists and stylists to plan successful photo shoots for your portfolio. Reaching out to other hairstylists for mentorship is also a great way to make connections and grow as an artist."
For the winning look, Pokjowy says: "I wanted to create something unique as well as timeless with a touch of vintage style to it. I love how finger waves look but wanted to modernize it and make them wearable for a bridal up style. I spent a few nights figuring out how to incorporate all of these components and was super pleased with the finished result!"
The second place winner is Samantha Wilson's loosely curled side ponytail, and third place is Trish Legere's violet-hued look.
We'll be announcing our next photo contest soon. Enter for your chance to be published in Salon Magazine!
Photo Credits:
First Place: Hair, Makeup, Photos: Paje Pokjowy; Model: Christina Shiers; Stylist: Lauren Heximer; Headband: Frilly Bits Custom Jewellery
Second Place: Hair: Samantha Wilson; Makeup: Naomi Mundy; Model: Diana Alexandra; Photos: Kin Hai
Third Place: Hair: Trish Legere; Makeup: Stacie Tasker; Photos: Crystal Whitehead