Congratulations to Alma Head, owner of Alma's Family Hair Salon in Sydney, Nova Scotia, for winning first place in our "So You Think You Can Style?" photo contest!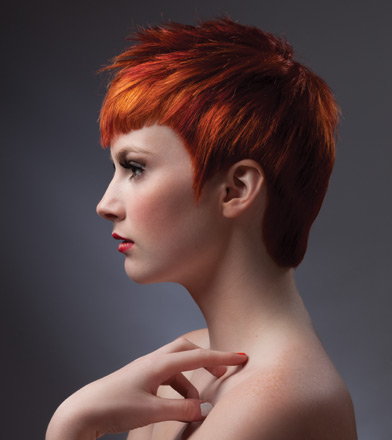 As a previous Contessa finalist, Alma is no stranger to photo shoots. Inspired by her love and passion for hair, her biggest challenge was "to find a style to suit the model: To use my vision and find that perfect style," she says. For this fiery hue, Alma used "precision cutting and foil placement to achieve my desired look. I used TIGI Shine Spray, Manipulator, and Masterpiece Hairspray to achieve my look, as well as Tigi color."
Alma encourages all hairstylists to compete and push their boundaries: "I would challenge them to better themselves. I would encourage them to be innovative and raise the bar. I would tell them to challenge themselves, and the industry. It's so fun! I enjoy it so much."
Second place is Candice Harder's vibrant highlighted look, and third place is Vincent DiPlacido's violet creation.
Congratulations to all the winners!
First Place: Hair: Alma Head; Makeup: Ann Marie Kanne; Photos: John Ratchford, Ratchford Photographic Studio

Second Place: Hair: Candice Harder; Photo: Kate Friesen
Third Place: Hair & Photo: Vincent DiPlacido; Makeup: Fernando Marques